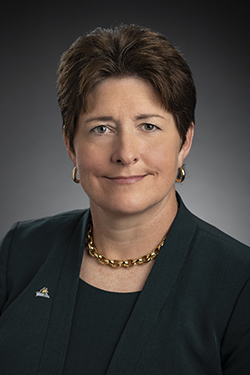 Dear Colleagues
The first week of Fall Semester is an exciting one for the entire Raider and Laker families. The beginning of every academic year engenders a sense of anticipation and hope, and this year is no exception. I'm eager to serve Wright State as your provost and happy to see you back on campus doing what we do best—supporting our students.
I'm inspired by the energy Wright State faculty bring to their classes and uplifted by the creativity and commitment that drives your intellectual pursuits. Even more, I'm eager to see how we can continue to improve the student experience together, while simultaneously navigating a new semester—one that includes a number of new faculty members in our departments, the thoughtful reorganization of all or part of some colleges, and a renewed commitment among faculty, staff, and administration to serve our students.
This is our first newsletter out of the Office of the Provost. My goal is transparency and the establishment of effective, regular communication with you about academic affairs and academic success. I encourage you to remain informed and engaged throughout the year, making use of all the channels of communication available to you on campus. As one of those channels, this newsletter will emphasize news from the academic units and provide links to resources and reminders of events and deadlines important to faculty, those working in academic affairs, advisors, and student success coaches.
It's important that we have a shared understanding of Wright State University's goals, policies, processes, challenges, and opportunities. Throughout the academic year, and with your input, we will gauge the effectiveness of these communications strategies and make changes where necessary.
In the meantime, if you have any questions, want additional information, or want to share a concern, please reach out to the Office of the Provost at amy.thompson@wright.edu.
Finally, I want to thank all the faculty and staff who made last week's Teaching for Student Success Symposium such an inspiring start to the new year and extend a warm welcome to our 20 new faculty. There are new faces in every college; please do your best to help them settle in.
Wishing a wonderful new academic year to our Raider and Laker faculty,
Amy Thompson, Ph.D.
Provost and Senior Vice President for Academic Affairs
Important Reminders and Information:
September 2: Participation rosters are due. Documenting student participation/attendance is required for Title IV compliance. For more information, read Faculty Line #252, August 16, 2022 (PDF). Please note that department chairs and deans will receive reports from courses where this documentation has not been completed.
Participation Roster Due Dates: Last day to drop/withdraw and receive 100% tuition refund:
Full Term: Weeks 1–2: Friday, September 2, by 11:59 p.m.
A Term: Week 1: Friday, August 26, by 11:59 p.m.
B Term: Week 8: Friday, October 14, by 11:59 p.m.
The window for reporting opened on the first day of the semester. Faculty can access participation rosters for your courses in WINGS Express under the Faculty Tab.
September 6: Deadline for candidates to submit to their department chair their complete Promotion and Tenure document and all materials described in Terms and Conditions.
September 28: Center for Faculty Excellence Brownbag Workshop: Preparing your Professional Development Leave Proposal. Time: Noon to 1:30 p.m. Location: TBA.
Participants: Mike Saville (CECS), Brian Boyd (CHEH), Rachel Sturm (RSCOB), Andy Voss (COSM), and Tracey Steele (COLA), with Workshop Facilitator Paul Lockhart, CFE Faculty Fellow for Research.
October 12: Midterm grades are due at noon. Midterm grading is optional for Fall Semester, but we encourage all faculty to actively participate in this new student success initiative.