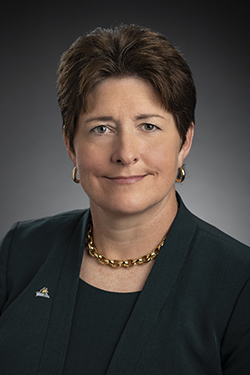 Dear Colleagues,
I would like to direct you to the Office of the Provost's updated website. We hope this site will serve as a resource for faculty and staff by providing content on faculty affairs, faculty resources, academic affairs, and accreditation and assessment all in one place. We envision this site being a resource for our campuses, and we will continue to add more useful information and resources.
I would also like to remind you that the faculty survey on midterm grading is active through Friday, November 4. Please complete this survey if you have not done so already.
Higher Learning Commission (HLC) Update
HLC accreditation is centered on evidence that supports five specific criteria:  1 – Mission; 2 – Integrity: Ethical and Responsible Conduct; 3 – Teaching and Learning: Quality, Resources, and Support; 4 – Teaching and Learning: Evaluation and Improvement; and 5 — Institutional Effectiveness, Resources, and Planning. Within each criterion are components. "Focused visits occur between comprehensive evaluations and examine specific aspects of an institution. A focused visit is an evaluation of limited scope that reviews specific developments and changes or follows up on concerns identified by a previous evaluation process" (HLC website). HLC's focused visit in March 2023 will be on Criteria 4B and 5C.
Events
Veteran and military-connected staff and faculty are invited to join the Veteran and Military Center for food and fellowship on Wednesday, November 9, from 8:00 a.m. to 4:00 p.m. Breakfast, lunch, and an afternoon snack will be provided.
 
The College of Liberal Arts will host Getting Past DEI Fatigue and Skepticism to a Rhizomatic, Practice-Based Pedagogy, presented by Dr. Tripthi Pillai, associate professor of English and assistant dean of diversity, equity, and inclusion at Coastal Carolina University, on Tuesday, November 8, from 3:30 to 5:00 p.m. in 109 Oelman Hall. Registration is not required.

Dr. Pillai explores the need for building radical care within teaching and learning environments at historically white institutions. Addressing the experience of fatigue and burnout often experienced by builders of diversity, equity, inclusion, and belonging whose care work and pedagogy are systematically redlined as service or cultural practice that is at best supportive of, at worst peripheral to ideologies of academic excellence, Dr. Pillai maps the impacts of the marginalization of DEI labor on both faculty and students at these institutions. Even as colleges and universities hire chief diversity officers in hopes that the centuries-long exclusionary infrastructure of higher education will be dismantled as a result of administrative attention and compliance-centric approaches to DEI work, she calls for faculty's adoption of a process- and distributive accountability-based pedagogy of care, which she states must be the foundation upon which the transformation of all academic cultures, identities, and practices are built.
Commencement
Commencement marks a significant moment in the lives of our students and their families. The granting of a degree and the admission to the "rights and privileges" associated with a given degree are extraordinarily important events for those receiving degrees.
The presence of faculty is especially important for the graduates and their families. All faculty should prioritize their attendance and bargaining unit faculty are reminded of their responsibility under Article 7.4.8.
All faculty are encouraged to attend one or both ceremonies in December. Registration is required and is open now through November 21. You can register online.
Graduate Ceremony: Friday, December 9, 7:00 p.m.
Undergraduate Ceremony: Saturday, December 10, 10:00 a.m.
Noteworthy News
Dr. Lee Hannah, associate professor of political science in the College of Liberal Arts' School of Social Sciences and International Studies, will be on multiple media outlets providing real-time analysis of the midterm elections. Dr. Hannah is featured as one of the local election experts on the WHIO website. Dr. Hannah will be on WRGT (channel 45) both Election Day morning, November 8, and the day after and on WHIO (channel 7) throughout election night.
Recognition
Dr. Kevin Lorson, Health and Physical Education Program director, HOPE Curriculum director, and OAHPERD advocacy chair, was a featured speaker at the Ohio Children's Caucus on "Skills-Based Health Education to Support a Healthy Ohio." The Ohio Legislative Children's Caucus is a bipartisan, bicameral caucus devoted to championing children's issues in the state legislature through meaningful legislative, administrative, and budgetary action.
Research and Sponsored Programs
Research and Sponsored Programs and the Office of Technology Transfer — Ask the Expert!
Do you have an idea that you would like to see in the market? Are you wondering if your research has the potential to be commercialized? No matter what stage of development your concept is in, Dr. Julie Nagel can provide guidance on commercialization and types of intellectual property protection.
Online appointments are available for Friday, November 4, between 9:00 a.m. and 3:00 p.m. Schedule your appointment with Dr. Nagel.
When a Student Needs Support
Wright.edu/help is a great resource for helping students or making referrals. This site contains contact information for emergency or essential departments that can assist your students all in one location.
Resources Available on Campus
The ombudsperson provides an impartial, confidential, and informal means for faculty, staff, and students to discuss campus-related concerns or problems off the record. The ombudsperson does not provide legal advice, psychological counseling, or advocacy, but instead seeks to inform and empower community members to handle their own concerns. The ombudsperson also provides input on policy and practices to reduce confusion, address gaps or chronic misinterpretation, and promote equity, inclusion, and institutional fairness.
For more information, please visit wright.edu/ombuds-office.
Have a wonderful week!
Best,
Amy Thompson, Ph.D.
Provost and Senior Vice President for Academic Affairs