Summer 2019
DJ Zuko- Rockin' Raider
Mondays 12:00am - 2:00pm
Follow Along on a long, strange trip through rock and roll history. As Dj Zuko and Emsicle plus friends discuss the latest music and movies.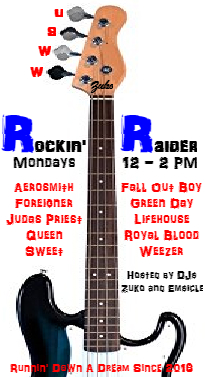 Triple P - Raider Up! WWSU
Tuesdays 5pm - 7pm
Campus news, current events, debates, org spotlights, fun topics, and prize giveaways. In collaboration with WSU The Guardian Newspaper.
Don Smith - The Life Radio Show
Tuesdays 7pm - 9pm (Live)
Wednesdays 12pm - 2pm (Rebroadcast) Thursday 12pm - 2pm (Rebroadcast)
Each week, Don Smith (owner of Wiley's Comedy Club) brings local comedians, actors, and the occasional musician on the air to talk about the Dayton comedy and entertainment scene.
Dr. Wilson and Adam Wightman - Good Politics
Wednesday 2:00-3:00pm
Thursday 4:00-5:00pm
An allegiance-free discussion of American politics hosted Dr. Sean Wilson, a politics professor and lawyer. Tune in to understand current events, Trump and the 2020 race.
Shea Neal and Connor Thornton-After the Final Whistle
Thursdays 2:00-4:00pm
Talking all things sports from a national perspective. Also fun interviews and interactive segments. Be sure to check out the Best of the Show every week on our Spotify podcast.
Kya Kelly - Kickin' It With Kelly
Thursdays 5:00pm-7:00pm
The hottest throwback Hip-Hop & R&B radio show, dropping tracks straight from the 90's and 00's, bringing you BBQ vibes all year long & your source for pipin' hot tea, riveting discussion segments, and compelling interviews.
K-Dean - K-Dean Vybz
Fridays 9pm - 1am
Classic Music
Triple P -Story Scapes
Sundays 5 - 6pm
Ike B. Da Bad Boy - The Ike B. Show
Saturdays 6pm - 10pm
Sundays 6pm - 10pm
Old school hip hop, R&B, Wu-Tang, Neo-Soul, Reggae, Acid Jazz, and much more!