Fall 2019
DJ MiMi & DJ Afi - Keeping It 100
Mondays 2:30pm - 3:30pm
You don't want to miss out on The Crazy Advice and The Hottest Gossips News Join Us Keeping It 100 Every Monday At 2:30pm till 3:30pm on WWSU 106.9 With D.J. Afi and D.J. Mimi. Lastly, cat us on YouTube KeepingIt100 where you can watch and engage with us on hot and intriguing topics. 
Dj Fab - CrossFader
Mondays 3:30 pm - 4:30pm
CrossFader brings you non-stop mix of Hip Hop, RnB, Afro-beats and much more. You are rocking with DJ Fab, the international boy.
DJ Zuko- Rockin' Raider
Mondays 5:00pm - 7:00pm
Join DJ Zuko, aka Maxwell Patton, on a rock and roll odyssey for the ages that is three years in the making!  Every week, Zuko chats with listeners and guests about the latest in geek culture, ranging in topic from television shows and comic book movies to role-playing games and cosplaying.  He also reviews movies (past reviews have included "Yesterday", "Leave No Trace" and "Bohemian Rhapsody") and the occasional album, and, starting in fall 2019, he will do a weekly artist profile.
However, that leaves out the best part of the show: the music!  Zuko loves all genres of music, but mainly rock and roll. Listeners will hear a wide variety of tunes on "Rockin' Raider", ranging from hip hop and trending pop music to classic rock and throwback jams!
Find us on Facebook at facebook.com/rockinraiderwwsu!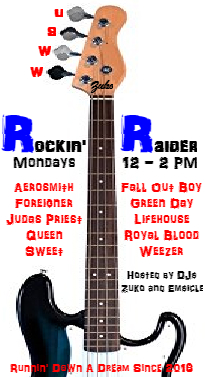 DJ Destiny - The Wright Wave
Tuesdays 2:00pm - 3:00pm
Todays hits along with pop culture news and interviews.
DJ B - Let's B Real
Tuesdays 3:30pm - 4:30pm
Let's B. Real is the show to tune into for the latest gossip, various engaging relatable conversations/ topics, and vibe to some Hip Hop & R&B. DJ B. gives her honest opinions and advice while speaking for the culture. 
Twitter: @_kingbeexo 
Instagram: @walkbe1998
Triple P - Raider Up! WWSU
Tuesdays 5:00pm - 7:00pm (live)
Wednesdays 5:00pm - 7:00pm (re-run)
Raider Up! WWSU is your interactive source of campus news, organization and faculty spotlights, debates about issues that matter to you, and fun topics. Tune in to learn the latest about what is happening at Wright State University. https://www.facebook.com/rupwwsu
Don Smith - The Life Radio Show
Tuesdays 7pm - 9pm (Live)
Wednesdays 12pm - 2pm (Re-run)
Thursday 12pm - 2pm (Re-run)
For over four and a half years, Don Smith and The Life Radio Show has been bringing some of the best local comics in to talk about current events, comedy, and the strange things that happen on stage.
facebook.com/thelife1069
twitter.com/donsmithcomedy
instagram.com/thelife1069
Thelife1069.com
Dr. Sean Wilson & Adam Wightman - Good Politics
Wednesdays & Thursdays 2:00pm - 3:00pm
Good Politics is an allegiance-free discussion of American politics, hosted by Dr. Sean Wilson, a politics professor and lawyer. Tune in to understand current events, Trump, and the 2020 race.
Darren Glines- The DG Show
Thursdays 10:00am -11:00 am
The show covers current sports, Wright State athletics/Sports, and plays music. https://www.facebook.com/The-DG-Show-on-WWSU-1069FM-Fairborn-Dayton-238603240417929
DJ Nat - Flyin in With Nat
Thursday 3:30pm - 4:30pm
Flyin in With Nat, the show with the latest New Country and Pop hits. Tune in for your pop culture news, weekly relationship segment, and interviews with the coolest bands. 
DJ Disappointment - The Dissapointing Radio Hour
Thursday 8:00pm - 9:30pm 
The show you keep on hating, but keep on listening, the comedy styling of Bryten Jones; the one and only disappointment! Each week listen to the randomness and craziness of DJ Disappointment and his guests! 
DJ Savage Sammie - The CrayRaiderTalk
Friday 10:00am - 12:00pm
The CrayRaiderTalk is a CRAZY topic talk show with different taste of music. Topics from movies, TV shows, Crazy ex stories, or anything really you name it.
Shea Neal - OnThe Horizon
Friday 1:00-2:00pm
Your home of the best interviews with athletes, coaches, and more, breaking down all things Raider sports, and fun giveaways and exclusive content along the way.
Twitter: sheaneal14
Instagram: sheaneal01
DJ Doug - The Levis Effect
Friday 2:00pm - 3:00pm
The Levis Effect is a sports talk show, hosted by DJ Doug, bringing up-to-date sports news, commentary, and trivia from collegiate, professional, and international levels.
K-Dean - K-Dean Vybz
Fridays 9pm - 1am
Pozitive vybz and classic music from the 70s, 80s & 90s... disco, R&B, Reggae/Dancehall...
Ike B. Da Bad Boy - The Ike B. Show
Saturdays 6pm - 10pm
Sundays 6pm - 10pm
Real Hip-Hip / R&B, neo-soul, acid jazz, and much more! You never know what's coming on The Ike B. Show.