Spring 2019
DJ Emsicle- Rockin' Raider
Mondays 12:00am - 2:00pm
Follow Along on a long, strange trip through rock and roll history. As Dj Zuko and Emsicle plus friends discuss the latest music and movies.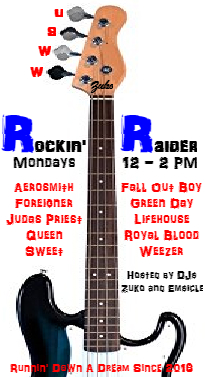 DJ Hydrex- Heavy Artillery
Mondays 6pm - 8pm
EDM
Tarik Woods - Vibin with Woods
Mondays 4pm - 6pm
Vibin with Woods hosted by Twoods on WWSU's 106.9 FM is a radio show with a variety of different genres of music, also discussing some trendy, important topics going on in the culture today. Coming back for his second year in radio, he plans on leaving it all out on the table and to go out with a bang!
DJ MImi & DJ Afi - Keeping It 100
Tuesdays 10am  - 11 am
Talk/Music
DJ B - Let's B. Real
Tuesdays 11:00am - 12:00pm
Let's B. Real, previously known as Real Talk with Reann, is the show to follow the latest news in pop culture and discussions as DJ B gives her honest opinions.
DJ Nat - Flyin In With Nat
Tuesdays 2pm - 3:00pm
Flyin in With Nat, the show with the latest New Country and Pop Hits. In addition, your source for area news, fashion trends, and celebrity gossip.
Triple P - Raider Up! WWSU
Tuesdays 4pm - 7pm
Campus news, current events, debates, org spotlights, fun topics, and prize giveaways. In collaboration with WSU The Guardian Newspaper.
Don Smith - The Life Radio Show
Tuesdays 7pm - 9pm (Live)
Wednesdays 12pm - 2pm (Rebroadcast)
Each week, Don Smith (owner of Wiley's Comedy Club) brings local comedians, actors, and the occasional musician on the air to talk about the Dayton comedy and entertainment scene.
Dj Sammie - The CrayRaiderTalk
Wednesdays 12:00pm-2:00pm
All the latest talk around campus as well as 90's alt-rock/alt-indie music. Look up The CrayRaiderTalk on Facebook.
DJ Dissapointment - The Dissapointing Radio Hour
Wednesdays 2:30pm-3:30pm
The Dissapointing Radio Hour show is about me as a person being worse at everything then everyone else. While bringing you the most dissapointing wheather, news,etc. 
DJ Doug - The Levis Effect
Wednesdays 4:00pm-5:00pm
Dj Doug host The Levis Effect every week to bring up-to-date infromation about the sports that everyone watches. Without all the other fighting sport talk shows need to thrive. Make Sure to look up The Levis Effect on Twitter, Facebook, Instagram & Youtube.
Aaron Edwards - The 675
Wednesdays 5:00pm - 9:00pm
New and Classic indie pop/rock/R&B to keep you moving on your drive home or between classes.
Darren Gilnes- The DG Show
Thursdays 10:00am - 12:00pm
Sports/Music
The Dissapointing Radio Hour
Thursdays 8pm-9pm
With DJ The Dissapointment 
Comedy Show
Christian Peters - Friday Junior
Music is all over the map on Friday Junior! Christan Peters spins your favorites along with some deep cuts across the decades. Mostly focused on Rock,Folk and Oldies with some other genras as well.
DJ Destiny - TheWright Wave
Talk/pop
Skip Carter - The Morning After
Thursdays 7pm - 8pm
Talk
DJ Josh- Chance Radio
Fridays 1pm - 2pm
The show that has your best chance to get out and do things here at Wright State and the surrounding Dayton area.
DJ Shea - On The Horizon
Fridays 2:00pm-3:00pm
Sports
DJ Ted - The Ted Report
Bringing you the latest news in sports and current events.
DJ Kya Kelly - Kickin' It With Kelly
Fridays 5pm - 7pm
The hottest throwback Hip-Hop & R&B radio show, dropping tracks straight from the 90's and 00's, bringing you BBQ vibes all year long & your source for pipin' hot tea, riveting discussion segments, and compelling interviews.
K-Dean - K-Dean Vybz
Fridays 9pm - 1am
Classic Music
Ike B. Da Bad Boy - The Ike B. Show
Saturdays 6pm - 10pm
Sundays 6pm - 10pm
Old school hip hop, R&B, Wu-Tang, Neo-Soul, Reggae, Acid Jazz, and much more!