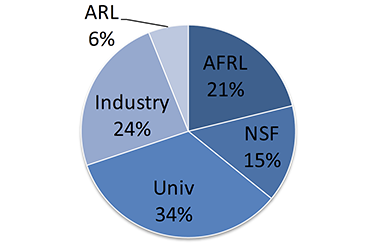 Get Started
To get started, review the Membership Agreement (link at bottom of this page) and then contact us.
Dr. Brian Rigling
Center Director
brian.rigling@wright.edu
Dr. Lee Potter
Center Co-Director
potter@ece.osu.edu
Join a collaborative of enterprises, research laboratories, and universities focused on international and homeland security through layered sensing technologies.
Current members are the people you need to meet from the organizations you want to target.
Return on Investment
Leveraged collaboration with university partners

Reduced overhead rate
NSF cost-share
Shared consortium research portfolio

Establishing early relationships with US citizen students; opportunities to recruit talented students.
Direct discussions with our Air Force and Army customers in a pre-competitive setting where members can identify mutual interests and begin to take the next research steps.
Exposure to new ideas at early stages of R&D.
Establish teaming relationships for sponsored R&D proposals.
Benefits of membership
Gain exposure to new ideas at early stages of research and development.
Establish relationships with bright engineering students.
Have direct discussions with potential clients.
Benefits by organization
Small- and Medium-Sized Firms (SMEs)
SBIR companies can join with 50% discount on membership
Leverage your research capabilities
Pool your resources with other companies, universities, and government labs
As a CSR board member, learn Department of Defense R&D directions from their prioritization and evaluation of CSR activities at semi-annual meetings
Gain direct access to Fortune 500 companies focused in this area
Fortune 500 Companies (OEMs)
Recruitment opportunities via CSR internships
Establish teaming relationships for sponsored R&D proposals
Add qualified, domain-specific companies to your supply chain
First access to reproducible research
Government Research Labs
Reduced overhead rate to collaborate with universities
Opportunities to recruit talented students
Universities
Easily collaborate with industry and government labs
Enhance technology commercialization efforts
Learn government research directions prior to formal Broad Agency Announcements
Develop a strong research network