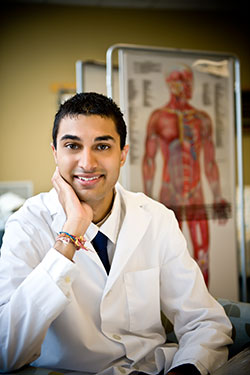 The Wright State University Honors Program was created in 1972 to meet the needs of the University's brightest, most ambitious students. It is open to students of all majors and provides a varied curriculum consisting of:
Honors sections of Wright State Core courses
Service-learning courses
Interdisciplinary core courses in the humanities and social sciences
Broadly interdisciplinary upper-level topical seminars
Departments are also free to propose Honors sections of regular courses both at the introductory and advanced level. First-year students are able to participate in learning communities of linked courses in which the same 20 students enroll. Most majors offer students the opportunity for intense Honors work in the major during the senior year.
Students may choose to graduate with one of three Honors designations, which are noted on the transcript and in the commencement program:
University Honors Scholar
Departmental Honors Scholar
General Studies Honors Scholar
The primary mission of the Honors Program is to produce a body of graduates who are well-educated, socially conscious, and capable of assuming leadership roles in society. The Honors Program is responsible for providing undergraduates with all the tools and every opportunity to create a stimulating, well-rounded, solidly grounded, and socially responsible education. The program currently has more than 2,000 alumni, disproportionately distributed in the medical, legal, and academic professions, where many of them are beginning to move into leadership roles. Alumni surveys indicate that the program is fulfilling its mission.
The Honors Program encourages diversity in its student body, its faculty members, course content, and extracurricular activities. Transfer students and nontraditional students are particularly welcome additions to the student mix. Students who complete Honors work at another NCHC institution receive honors credit at Wright State for those courses.
Honors classes are small—between 15-20 students—and faculty members are encouraged to try innovative, student-centered teaching styles that feature discussion, collaboration, creative projects, or extensive research papers. Ongoing assessment indicates that students are satisfied with their Honors courses, often citing them as the only undergraduate courses that challenged them to think analytically. To recognize and encourage outstanding teaching, each spring Honors students are invited to nominate a faculty member for the Honors Teacher of the Year Award.