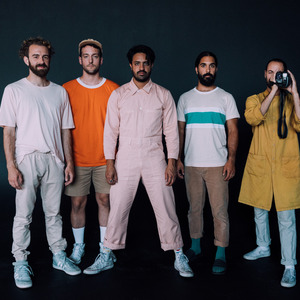 Three months ago, I had never heard of Young the Giant. It wasn't until a friend of mine introduced me to the Los Angeles alternative group on Spotify that I really fell in love with their music. I clicked through tracks such as "My Body" and "Amerika" and I was hooked. Fortunately, at the time that I was delving into their discography, they were on tour. Unfortunately for me, the closest stop was a three-hour drive from where I was.
So, last Thursday afternoon I made the hike up to Purdue University to see the L.A. rockers. The venue was large, but not extremely conducive for the type of jump up and dance band that Young the Giant had proven that they were. The show opened with a cut off their most recent album Mirror Master then followed by an enthusiastic rendition of "Something to Believe In". Song after song, lead singer Sameer Gadhia enthusiastically belted the lyrics to tracks like "Titus Was Born" and "Apartment" while a rocking tempo pulsated through the auditorium. The band itself was great, I have no complaints there.
The only thing that I would have changed about my experience was what I mentioned earlier – the venue. The tight, classically-built theater chairs didn't enable any movement that has proved essential for so many concerts of this genre. The crowd simply wasn't into it and wasn't able to be. It wasn't until the latter half of the performance that the band played their most popular hit "Cough Syrup" and the throng of college students all joined in on the chorus – one of the only times in the show most of the crowd was involved.
All in all, I thoroughly enjoyed the set – a solid 9/10 music-wise, proving once again that it is always better to see your favorite bands live in concert, there simply isn't anything like it. And to Young the Giant, I'll see you in June with Fitz and the Tantrums and COIN!
-Christian Peters
Assistant Music Director