Women in Science Giving Circle Student Scholarship Awards

Each Women in Science Giving Circle (WISGC) Award is $1,500.00. Three are available.
On this page:
Eligibility
Undergraduate women applicants must generally be engaged in scholarship that clearly lies within a STEMM (Science, Technology, Engineering, Mathematics, Medicine)-related discipline. Special consideration will be given for undergraduates whose primary degree focus falls within a scientific discipline that has limited representation of women as role models. Applicants must have completed at least one semester at Wright State University. Applications will be considered for non-research based support if clear justifications can be made for how a WISGC award can help to overcome a perceived barrier (e.g. childcare costs, travel costs to present research, tuition costs, book costs, research funds) to success in the applicant's chosen field.
---
Eligible Expenses
Undergraduate student awards can support stipend for living expenses, childcare, travel costs to present research, tuition costs and/or education or research-related expenses.
---
Application
Requirements
A letter of support from a faculty member in your program.
Complete the scholarship application
Completed applications for the 2019 cycle are due April 5, 2019 by 5 p.m.
---
Recipients
On April 19, 2018 the Women in Science Giving Circle (WISGC) hosted a reception to announce the 2018-19 student scholarship award recipients. We are very proud to add these exemplary women to our distinguished list of scholarship recipients. Congratulations to our scholarship recipients: 
Vanessa Animah Boateng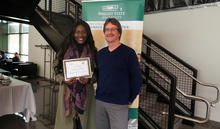 Abagail Chumley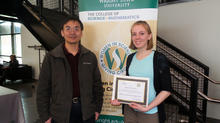 Faminaz Karazha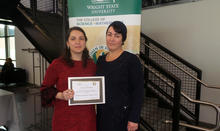 Melissa Kaufman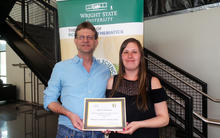 Rosa Tweed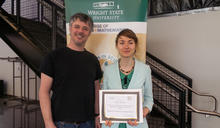 Previous Scholarship Recipients
| Year | Recipient | Major |
| --- | --- | --- |
| 2018 | Animah Boateng | Psychology |
| 2018 | Abagail Chumley | Mathematics |
| 2018 | Faminaz Karasha | Neuroscience |
| 2018 | Melissa Kaufman | Nursing intending |
| 2018 | Rosa Tweed | Biological Science and Art |
| 2017 | Katelyn Adams | Mechanical Engineering |
| 2017 | Andrea Bell | Psychology, BNS |
| 2017 | Lauren Magee | Earth & Environmental Sciences |
| 2017 | Megan Reed | Biological Sciences |
| 2017 | Abigail Schmidt | Psychology, BNS |
| 2017 | Madison Yancey | Statistics, Computer Science |
| 2016 | Maria Dodd | Psychology |
| 2016 | Molly Donovan | Mechanical Engineering |
| 2016 | Kaylee Eakins | Biomedical Engineering |
| 2015 | Michelle Bricker | Computer Science |
| 2015 | Clarisse Mukeshimana | Chemistry |
| 2015 | Melissa Ward | Biological Sciences |
| 2014 | Kristina Burban | Chemistry |
| 2014 | Lauren Shafer | Biological Sciences |
| 2014 | Corrie Spradlin | Chemistry |
| 2012 | Arlene Maliekal | Exercise Biology |
| 2012 | Amanda M. Sherwood | Exercise Biology |
| 2012 | Elizabeth E. Stayrook | Biological Sciences and Chemistry |
| 2011 | Shannon Collins | Psychology |
| 2011 | Kelsey Danner | Earth & Environmentsl Sciences |
| 2012 | Tori Jackson | Sociology |
| 2010 | Alyssa Fosnight | Engineering Physics/Mathmatics |
| 2010 | Diane Iragena | Biology/Pre-Med |
| 2010 | Molly Miklasevich | Psychology |
| 2010 | Christina Thomas | Biology/Pre-Med |
| 2009 | Carla Benton | Physics |
| 2009 | Krista Lewis | Psychology |
| 2009 | Lorraine Ramirez | Biology |
| 2008 | Dorothy Carter | Psychology |
| 2008 | Jennifer Englemann | Computer Science and Engineering |
| 2008 | Brittany Henry | Biology |