On this page:
Scholarships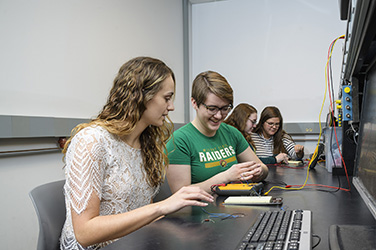 Funding a college education is a vital question, and Women in STEMM at Wright State can help answer it. Women in STEMM programs at Wright State University have already provided thousands of dollars in scholarships to women pursuing degrees in both undergraduate and graduate STEMM fields.
Considine Scholars Program: This fund was initiated by the Considine family to enhance the success of Women in STEMM and to increase the percent of women in the STEMM workforce. Currently, it provides $5,000 per year to each of three Scholars, for a paid STEMM work experience. Use scholarship search to learn more and apply.
Virginia Arlene Di Flora Memorial Scholarship: This fund provides the value of in-state tuition plus $500 book allowance. Use scholarship search to learn more and apply.
Related Links
---
Experiential Learning
Experiential learning includes undergraduate research, internships, co-ops, and shadowing.
Opportunities with our research partners, including Wright-Patterson Air Force Base, real-world work experiences in medicine, and more.
Related Links
---
Organizations
More than 180 student organizations on campus include many clubs and societies dedicated to STEMM interests, more than a dozen in engineering alone. Leadership opportunities abound in various student advisory boards.
Related Links
---
Support
Students
Faculty
Future STEMM leaders need qualified, empowered mentors and teachers. Wright State wants to help its faculty members be effective influencers in this role. Personal and professional interaction and collaboration are available through several campus groups, including:
---
Related Links
STEMM General
Engineering
Biomedical, Industrial and Human Factors Engineering
Computer Science
Mechanical and Materials Engineering
Social Media to Follow
#WomeninSTEM