Overview
The Learning Assistant program originated at the University of Colorado-Boulder and has since spread to other universities across the US. The educational model is built on the understanding that learning requires students to articulate and defend their ideas. Learning Assistant supported courses provide regular opportunities for students to engage with each other in small groups using challenging curricular materials that help students to get closer to full understanding of the material. The primary role of a Learning Assistant (LA) is to facilitate these collaborative environments in cooperation with the instructor of the course. 
A Learning Assistant is a high-performing undergraduate student who is hired to help with the facilitation of a course they have successfully completed.  LAs help in transforming the class to focus on active and collaborative learning. 
Wright State University's implementation of the program has begun with a focus on meeting the needs of instructors in active learning classrooms.
The ultimate goal  of the Learning Assistant program is increased student engagement in learning, leading to increased student success.
For information on the Fall 2015 - Fall 2017 LA Program or to be directed to current program facilitators, contact:
Jennifer Lobo
Director, Tutoring Services
122 Student Success Center
(937) 775-5770
The LA Position
Responsibilities
Attend all scheduled class meetings
Facilitating student engagement through small group discussions and activities (e.g., by encouraging all members of the group to participate, helping students find answers to their questions, directing student questions to other members of the instructional staff as necessary, etc.).  
Give feedback about the students to instructor (e.g., group dynamics, interactions, participation, etc.) 
Help uphold course policies and requirements and bring grading questions to the faculty's attention 
Meet with faculty weekly to discuss course planning and course-related business
Progress through Learning Assistant training by attending orientation, participating in three(3) workshops, and completing certification components
Follow Tutoring Services policies and procedures, including reporting work activities and submitting time cards in an accurate and timely fashion
Maintain communication with faculty and Tutoring Services
Requirements
Learning Assistants must have demonstrated academic success; recommendation from faculty member; grade of "A" or "B" in course being considered. Cumulative GPA must not be less than 2.8; prefer no less than 3.0. Ability to communicate effectively.
Pay Breakdown
Learning Assistants are paid $10.01 an hour for the following:
Up to 3 hours a week class participation 
7 hours a week for class prep
Total hours per week = 10 hours (additional hours must be approved by a Tutoring Services Specialist)
How to Apply
Students interested in becoming an Learning Assistant should contact the faculty of the course for which they wish to become an LA.
For Faculty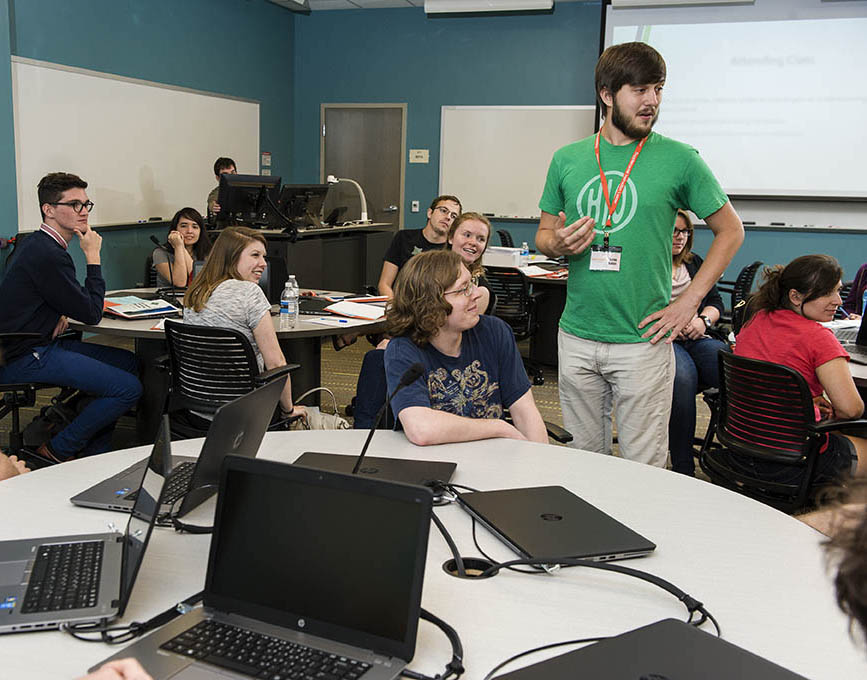 As described in the Overview, the Learning Assistant (LA) program at Wright State University is based on the LA program developed by the University of Colorado Boulder (CU Boulder).  
The key differences between the LA program and other undergraduate teaching assistant models are the pedagogical training the LAs receive and the overall goal to transform undergraduate classes to become collaborative, interactive learning environments. LAs mainly assist students rather than faculty, unlike the role of Teaching Assistants (TAs). 
The ratio of LAs to students recommended by CU Boulder for active learning classrooms is 1 LA to 20-25 students.
Training the Learning Assistants:  The cornerstone of the CU Boulder program is the training LAs receive to prepare them to support classroom pedagogy. Our model places a similar emphasis on LA training. Topics have included:  
Bloom's Taxonomy
Effective Groups
Argumentation and Explanation
Misconceptions and Formative Assessment
Faculty using Learning Assistants agree to:
Use LAs to promote interaction and collaboration among students enrolled in the course
Meet in weekly planning sessions with the LAs who support their courses
Evaluate transformations and assess learning in their courses