Lake Campus transitioning students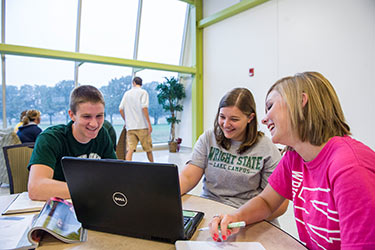 Are you a Lake Campus student planning to complete a bachelor's degree at the Dayton Campus? Though it may be intimidating, it is actually easier than you may think to make the transition. You may consider yourself a "transfer" student; however, you do not need to submit a college transcript because the Lake and Dayton Campuses are all Wright State. For this reason, we refer to students like you as "transition" students.
In any given term, students at the Lake Campus can register for Dayton Campus classes and vice-versa. When you start taking all, or the majority, of your classes on the Dayton Campus, you will want to:
Apply for readmission, if you are graduating with a degree from the Lake Campus. If you are transitioning as an active student without a degree, you do not need a new application.
Speak to a Dayton advisor in the college of your major or the Transfer and Nontraditional Student Center to ensure we update your information in the system. Having the correct campus and program designations prevents advising and registration glitches.
Register through WINGS Express just as you have done before.
Apply for Housing if you plan to live on campus.
Buy a Dayton Campus parking permit through Parking and Transportation by clicking "Visit My Parking Account."
Buy your books, which you can do online through your WINGS account.
Check out Student Activities for information about student organizations, leadership opportunities, community service, and more; get involved and get the most out of your college experience.
If you plan to work on campus, check out the Student Employment web site and search the job postings.
Just like the Lake Campus, the Dayton Campus has many resources available, so check out our resource web site for more information about academic, parents', multicultural, military, technological, and student life resources.
Bring your current Wright1 Card because it works on the Dayton campus as well.
Have questions and don't know where to turn? Contact the Transfer and Nontraditional Student  Center.