This past August, the Division of Student Affairs celebrated the 20th anniversary of its annual Kick-Off Breakfast. For the occasion, staff from the various departments came together to reminisce on the memories of years past, while planning for and looking forward to the exciting changes taking place this year.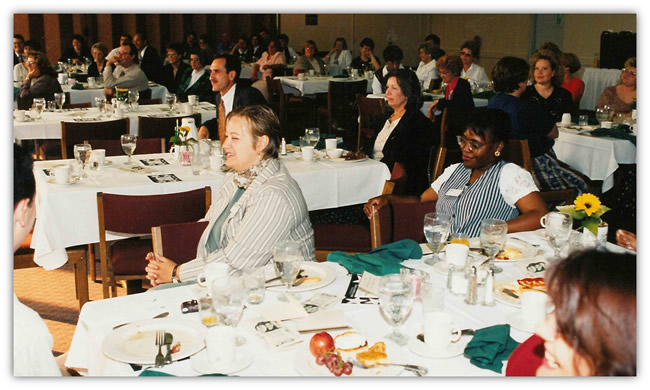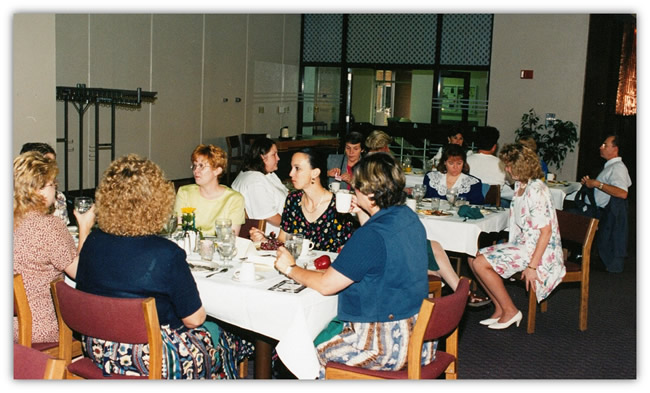 For the past several years, the Division has used the Kick-Off Breakfast as an opportunity to collect school supplies for the Kinship Caregivers Coalition. This tradition began through the needs of a nurse in Wright State's student clinic, Marsha Jones. Jones had received custody of her three grandchildren, leading her to retire early and leaving her with the new task of gathering school supplies. Health Services knew of the Student Affairs Breakfast and felt it could be a great outlet for aid. Jones was quick to realize that she was not the only grandparent in the Trotwood Madison School District struggling to purchase school supplies, so she created the Trotwood Grandparent Support Group, which eventually became part of the Kinship Caregivers Coalition. This support group helps provide assistance to over 600 families and 1,200 children each year. This year, the Division of Student Affairs continued the tradition by collecting school supplies for students in grades K-5.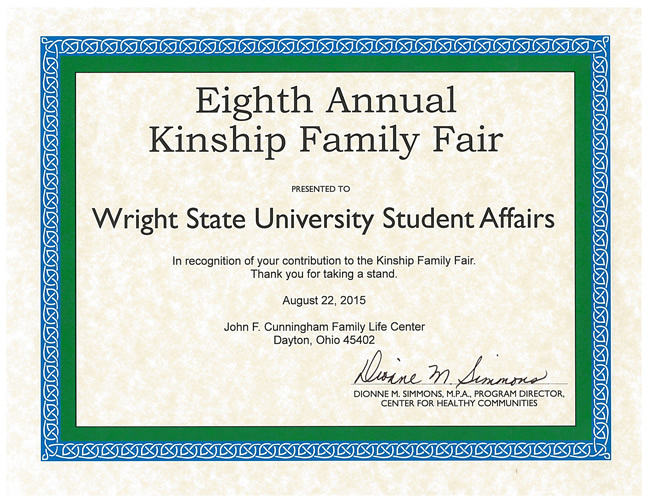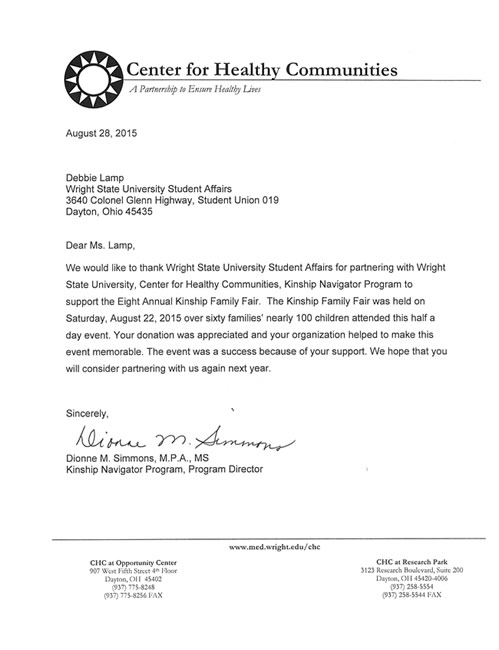 Additionally, on behalf of the Student Affairs Diversity Committee and Bias Incident Report Team, several students and staff members were recognized for their efforts in promoting and supporting the University's commitment to diversity. The following individuals were recognized:
Tristina I. Allen
Angelica M. Lloyd
Estrella Ana-Maria Alvarez
Carine Verlin
Megan L. Watson
Elizabeth A. Beemer
The winners of the Student Affairs diversity award were Tristina I. Allen and Megan L. Watson. Congratulations to both winners and all honorees.
Mark your calendar!  Next year's Student Affairs Kick-Off Breakfast will be held on Friday, August 19th, at 8:30 a.m. in the Student Union Apollo Room.