The College of Education and Human Services website was migrated into our Drupal content management system (CMS) in 2014. Since that time, the Office of Marketing has worked on numerous college websites and completed user experience (UX) testing with multiple different groups of both current and future students. Utilizing what we have learned, we wanted to make the College of Education and Human Services website our first full 2.0 college site since migrating the site to the CMS.
College Homepage Before
College Homepage After
Goals
Integrate everything we had learned going through all college sites when migrating them to Drupal
Improve user experience for future and current students
Lead conversion
Align site with current brand standards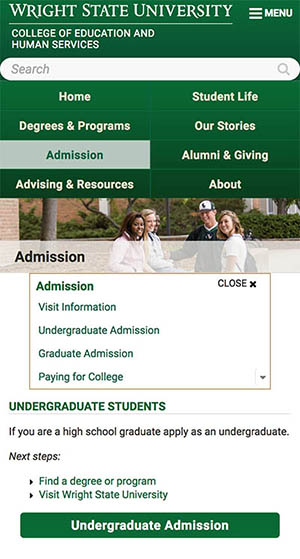 Plan
User experience testing for different sets of users has had lead us to use quite different information architecture and navigation than when we built this college website in 2014. It was necessary to update to the latest standards while also aligning with a greater focus on mobile navigation and content layout. The new pages would be much more streamlined and flow better on smaller devices. To make this signifigant of a change, we ended up rebuilding and reflowing all content pages across the whole site. Though it was more work, this would also allow us to review content more closely than is normally possible.
Results
The resulting site is closely aligned with the most recent Wright State University top-level pages and homepage. The new college homepage—much like the university homepage—focuses on telling the success stories of the institution by integrating alumni, student, staff, and faculty profiles, targeted news stories, and social media. Though making all new pages for content was additional work it allowed us to create a much higher level of polish than would have been possible through a minor facelift. We will be executing the same technique as we work on the rest of the 2.0 college websites. Making all new pages came with their own challenges. We will be paying closer attention to user permissions and redirects when using this model in the future. We also learned we should take more screenshots of the existing sites before we roll new for documentation uses, like this blog post.