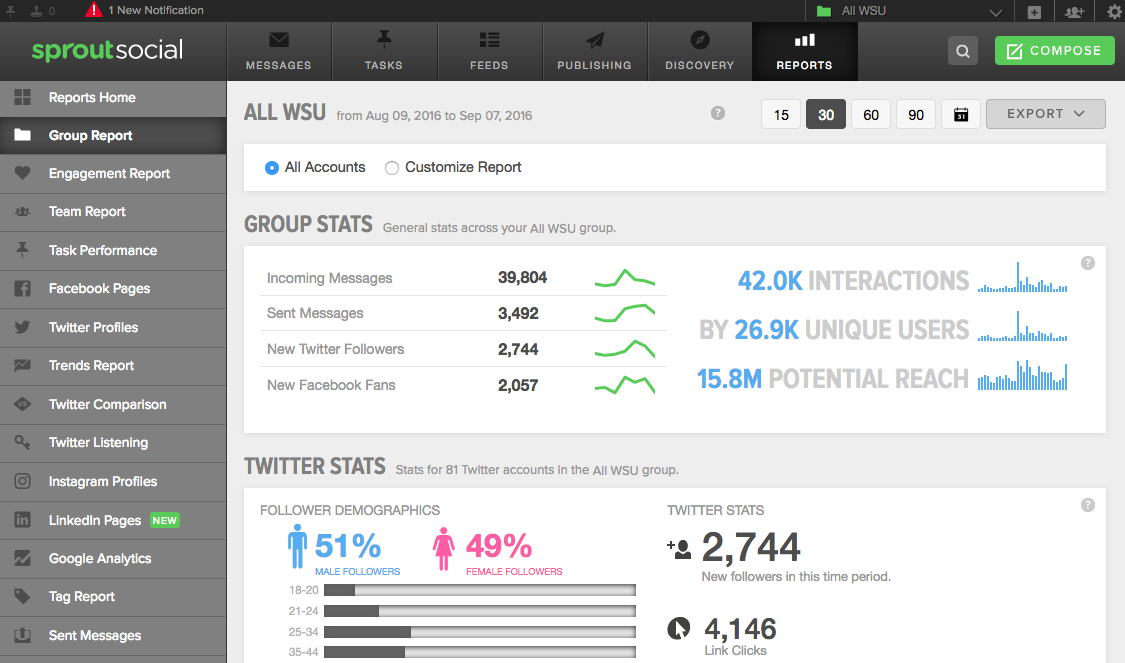 There's no denying that social media is here to stay. Eighty percent of companies now have dedicated social media teams1, and 52 percent of enterprise brands say social media is the top driver for relationship building/brand engagement, more than twice as much as email, and quadruple that of corporate websites2.
After experiencing tremendous growth in the university's social media operations from 2008 to 2013, the Office of Marketing made the decision to invest in a social media management platform. In December 2013, we began our relationship with Sprout Social, and quickly grew from one to four users over the course of four months, then launched our enterprise-level platform in December 2014, which at this time has 30 accounts with more than 200 social media profiles connected. Individual account teams own the 30 accounts, representing segments of the university that each communicate to a similar audience. Note this may vary from the university structure.
So what is a social media management platform?
The short answer: A SMMP is a communications and marketing tool to help us make better use of social media.
While the specifics vary by service provider and level of account purchased, in general, a SMMP is a website that allows users to monitor, track, and schedule social media content across multiple social media channels and profiles.
By investing in the most-comprehensive level of service offered by Sprout Social, we are able to connect with each account team to their respective social media profiles, and also communicate between account teams. Behind the scenes, we can flag content for each other, and send an immediate notification with a link to that individual tweet, Facebook post, or Instagram photo/comment.
This immediacy is critical in social media, as we are then able to respond in a timely manner. According to a study by Lithium Technologies, 53 percent of consumers who tweet at a brand expect a response within one hour; 72 percent expect a response within an hour if their tweet was a complaint…regardless of the time of day when the tweet was posted3.
Our SMMP allows Wright State to monitor and engage with roughly 27,000 individuals per month, tracking each of the 42,000 interactions and 15.8 million impressions. The system also tracks our response rate and response time, which presently sits at around 20 percent response rate and an average response time of three hours across all connected accounts. We are definitely progressing in the right direction.
From the time we began our relationship with Sprout Social, numerous SMMP competitors have launched. Moving forward, we will evaluate all of the available systems to determine which SMMP we will use in the future.
If you would like more information about Wright State University's SMMP or need training or access, please contact the university's social media director or email socialmedia@wright.edu.
Sources:
1: www.fastcompany.com/3054347/the-future-of-work/5-trends-that-will-change-how-companies-use-social-media-in-2016
2: www.socialmediatoday.com/content/14-stats-inform-your-2014-social-marketing-strategy
3: www.brandwatch.com/2015/02/marketing-provide-great-customer-service-via-social