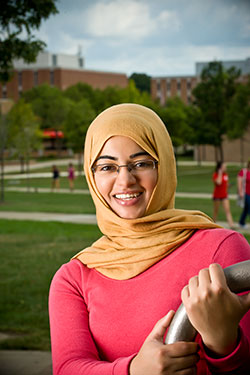 The University Honors Program offers students a variety of advantages and benefits in curriculum, scheduling, advising, and scholarships.
First and foremost, Honors students participate in the Honors curriculum. Honors classes are designed to provide a supportive learning environment where students are challenged to develop their skills in analysis and synthesis. The Honors curriculum highlights the interdisciplinary nature of learning. It offers students numerous opportunities for service learning and community engagement. Honors classes feature some of the most outstanding faculty on campus. Honors alumni often report that their Honors classes are the ones that they remember and value for years—sometimes even decades—after graduation. 
All Honors course work is noted on the transcript. Earned Honors degree designations appear on the transcript and in the commencement program. Students who are actively pursuing an Honors designation are given priority registration status, which allows them to register at the beginning of each registration cycle. This gives active Honors students maximum flexibility in planning their schedules.
In addition to providing advising about specific Honors Program requirements, the Honors staff can also be helpful to students who are preparing for professional and graduate school. The Honors Office is charged with the responsibility for advising for national and international scholarships and fellowships such as the Truman, Rhodes, Goldwater, or Phi Kappa Phi programs. Honors students who do departmental Honors research also have the benefit of an additional advisor in their major department.
The Honors Program has an attractive scholarship program for both entering and continuing students. The majority of Honors students receive some type of scholarship funding from the university.