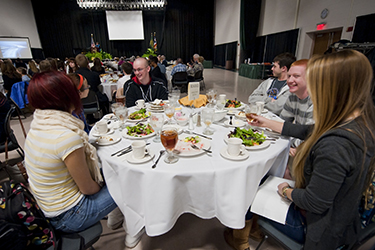 The Honors Institute is a multi-track learning experience that includes a provocative community event. Its purpose is to prepare Honors students to think beyond their academic training and to make it a habit of incorporating this training into larger, humanistic considerations of the common good. Focusing each year on a different contemporary intellectual issue of ethical importance, the Institute consists of:
interdisciplinary Honors seminar(s)
a civic engagement project for Honors seminar students
a community keynote address, free and open to the public, delivered by a figure of national or international prominence
a community Institute luncheon, free and open to the public, including a thought-provoking address from experts, media professionals, or humanities scholars
This Year's Topic
This year's Honors Institute was in conjunction with the Office of the President and addressed "Democracy, Politics and You".
Keynote Address
Dan Rather was the keynote speaker for the 2017 Honors Institute. It was held on Tuesday, January 31, at 7:00 p.m. in the Wright State University Nutter Center. The annual keynote address, in collaboration with the Wright State University Presidential Lecture Series, is free and open to the public, and tickets are not required.
Honors Institute Luncheon
The 2017 Honors Institute Luncheon was held on Wednesday, February 1, 2017 in the Wright State University Student Union Apollo Room and featured John Herrman, David Carr Fellow from The New York Times.
Previous Honors Institute Topics
2006 - The Human Brain featuring Dr. Oliver Sacks, physician and author
2007 - Poverty and Society featuring Dr. Wangari Maathai, 2004 Nobel Peace Prize recipient
2008 - Creating Sustainable Environments featuring Dr. Jared Diamond, Pulitzer Prize recipient and award-winning academic
2009 - Free Speech in a Global Society featuring Mr. Nicholas Kristof, Pulitzer Prize recipient and New York Times columnist
2010 - Connecting with China featuring Mr. James Fallows, national correspondent for The Atlantic
2011 - Intersections of Memory featuring Ms. Charlayne Hunter-Gault, award winning journalist and author
2012 - Exploring the Oceans featuring Dr. Robert Ballard, Deep-Sea Explorer and Discoverer of the Titanic
2013 - Mysteries of the Universe featuring Dr. Neil deGrasse Tyson, Frederick P. Rose Director of the Hayden Planetarium at the American Museum of Natural History
2014 - Physics of the Future featuring Dr. Michio Kaku, Henry Semat Chair in Theoretical Physics at the City University of New York (CUNY)
2015 - The Digital Revolution featuring Mr. Steve Wozniak, co-founder and Apple, creator of the Apple I and II and Silicon Valley icon and philanthropist
2016 - Redefining the Face of Disability featuring Ms. Maysoon Zayid, actress, professional standup comedian and writer