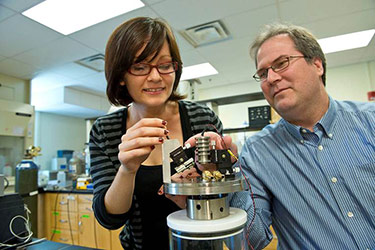 In a region admired for its advances in technology and engineering, Wright State University stands tall in its pursuit of innovation.
From the seven Ohio Centers of Excellence to the Wright State Research Institute, the university's community of researchers and thought leaders are solving problems and turning the unknown into the known.
Explore the many research centers and university research sectors on campus. See why so many organizations, military units, and universities are seeking to partner with Wright State University.
Graduate Research
Graduate students can work with faculty experts, fellow graduate students, and possibly undergraduate students on the faculty member's research. You can also discuss your ideas for independent research.
Graduate students may apply for Graduate Research Assistantship positions that may be eligible for tuition remission and annual stipends.
Links to on-campus and off-campus research training:
Research Compliance and Responsible Conduct of Research
US Department of Health and Human Services
Research Training
University Libraries