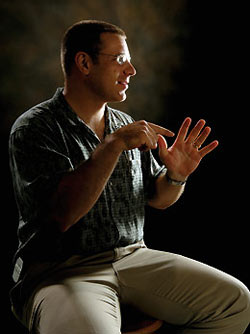 By age 29, Jeremy Daily had completed the Ph.D. program in engineering, conducted research projects for the U.S. Air Force, and helped author a textbook, Fundamentals of Traffic Crash Reconstruction.
"Jeremy has already demonstrated outstanding potential for a faculty career," says Nathan Klingbeil, 2005 Ohio Professor of the Year and associate professor of mechanical engineering at Wright State. "I believe his unique combination of teaching, government research, and consulting experience makes him exceptionally well-poised for success in academia."
Fundamentals of Traffic Crash Reconstruction, written by Daily along with his father, John Daily, and Nathan Shigemura, is a comprehensive resource for crash reconstructionists. It covers crash reconstruction topics such as friction and acceleration factors, time-distance relationships, rotational mechanics, rollovers, and more.
Crash scene evidence such as skid marks can be quantified, Daily says, "so never lie to the police. It takes a trained eye to pick up some of the evidence and these techniques are used in a court of law, both criminal and civil." Through his company, Jackson Hole Scientific Investigations Inc., Daily consults and presents workshops on vehicle crash reconstruction. He has also provided expert testimony in legal proceedings.
Daily's dissertation involved fatigue in metals. An example is a paper clip that is bent back and forth until it finally breaks. The same principle applies to other metals that crack.
"A crack can develop in a part and eventually grow to the point where it is unsafe and actually fracture apart," Daily says. "In a nutshell, I can tell you how fast that crack will grow based on advanced computer simulations."
In the competitive jungle of faculty hiring, Daily tried, like all new Ph.D.s, to make himself stand out from the crowd. Daily says it was his Fundamentals of Traffic Crash Reconstruction that helped him win a faculty appointment at the University of Tulsa.