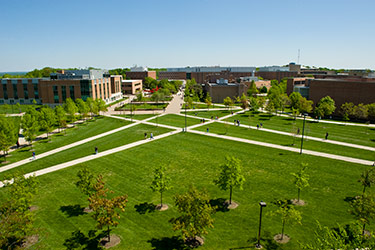 Welcome to the Wright State University Graduate School. Our 80+ master's programs and eight doctoral programs embody Wright State's spirit of innovation through cutting-edge research, outstanding faculty and educational opportunities, and rich connections to the world around us.
Our goal is to transform our students and the communities in which they live through top-quality advanced education. We invite you to explore our website, peruse our many graduate programs, send us questions or feedback, or start your application process.
Graduate School Facts
Wright State University is home to over 3,600 graduate students.  During the 2015-16 academic year, the Graduate School conferred 1,370 master's, 55 doctoral degrees, and 190 certificates/endorsements.  Our diverse student population included over 952 international students from over 40 countries.
2016 Master's and Doctoral Level Enrollment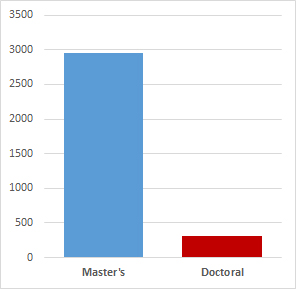 Master's and Doctoral Enrollment by Year
| DEGREE TYPE | 2012 | 2013 | 2014 | 2015 | 2016 |
| --- | --- | --- | --- | --- | --- |
| Master's | 2,513 | 2,735 | 2,963 | 3,092 | 2,957 |
| Doctoral | 314 | 314 | 308 | 336 | 313 |
2016 Overall Graduate Student Enrollment by College
| College or School | Enrollment |
| --- | --- |
| Raj Soin College of Business | 550 |
| College of Education and Human Services | 714 |
| College of Engineering & Computer Science | 1,034 |
| College of Liberal Arts | 443 |
| College of Nursing and Health | 247 |
| College of Science and Mathematics | 394 |
| Boonshoft School of Medicine (graduate programs only) | 118 |
| School of Professional Psychology | 123 |
| Graduate School | 127 |
Degrees Awarded by Year
| DEGREE TYPE | 2011-12 | 2012-13 | 2013-14 | 2014-15 | 2015-2016 |
| --- | --- | --- | --- | --- | --- |
| Master's | 1,371 | 1,125 | 1,036 | 1,212 | 1,370 |
| Doctoral | 26 | 50 | 48 | 38 | 55 |