Shaun Wenrick
Student Trustee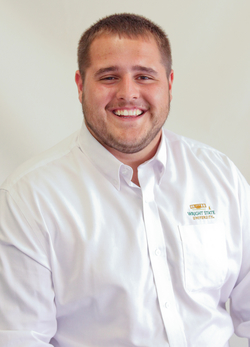 Shaun Wenrick, of Fairborn, was appointed for a term beginning Aug. 10, 2018, and ending June 30, 2020. He replaces Wright State alum Jordan (Large) Kingsley.
Mr. Wenrick is pursuing a bachelor's degree in early childhood education and a minor in business.
Since 2016, he has served as a resident assistant with Residence Life and Housing. In 2018-2019, he is serving as a head RA in the Parks Apartments. He previously was an RA in Laurel and Pine Halls. Mr. Wenrick has served as a residential senator in the Student Government Association since January 2017. He has also served on the association's student affairs and outreach and collaboration committees and was a freshman intern with the Student Government Association. He is also a member of the College of Education and Human Services Dean's Student Advisory Board.
He has participated in many community service projects, including Alternative Spring Break, Haunted Trail clearing and mission trips to Cambodia, Nashville, the Navajo Reservation in Arizona and Jackson and Sidney, Ohio.
Mr. Wenrick is a member of Omicron Delta Kappa, the National Society of Leadership and Success, National Society of Collegiate Scholars, Educators Rising and the Golden Key International Honor Society. He is the owner, head landscaper and designer of Wenrick Brothers Mowing and Landscaping, based in Sidney.
Term ends 2020.