Hometown
Chicago, Illinois
Major
International Studies and Mass Communication
Clubs and Organizations:
Amigos Latinos
Supportive Faculty
As a freshman, you either have an idea of what you would like to major in or you don't. In the beginning, I thought I knew what I wanted to do but I truly didn't. Dr. Spirek from the College of Liberal Arts had no idea who I was, yet she agreed to talk to me in regards to my career. From then on Dr. Spirek has guided me and helped me choose my career path wisely. But Dr. Spirek is not the only one. Dr. Costa also was an unforgettable mentor. I literally walked into his office with a vision and he helped me make it come true.
Preparing for the Future
Once I obtain my bachelor's degree, I aspire to working with the United Nations or a branch of government where I can advocate for the civil rights of vulnerable individuals and defenseless communities, whose voice have not been heard.
A Great Choice
My parents are more than happy that I attend Wright State University. They feel included which is a feeling they don't usually receive from institutions that I have attended, all thanks to the bilingual faculty members and friends. Also, the great opportunities that Wright State has offered me, make my parents happy and positive that I made the right choice. 
Wright State Experience in 5 Words or Less!
Impressive, helpful, welcoming, supportive, and home
A Few of My Favorites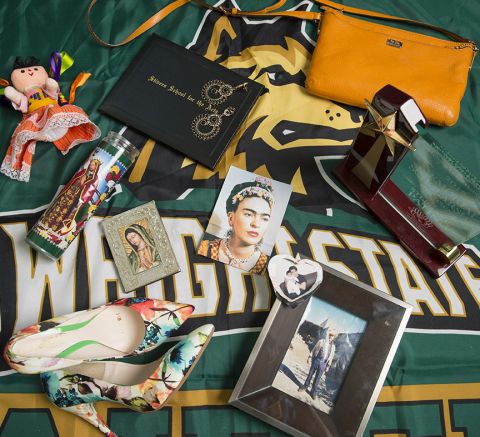 My favorite place on campus is The Office of Latino Affairs for sure! Potlucks are every other Friday, friends stop by every minute of the day, and my favorite faculty member Aida Montes is always there to make me laugh! 
My favorite class has been Public speaking with Dr. Robert Leonard. With this class I found confidence in a talent that I always doubted. I found myself speaking eloquently, with diction, and presence. My classmates always gave me great feedback. After this class I realized that all those insecurities that I had were irrelevant. I truly loved this class, and thanks to it I had the confidence to be the 2015 Amigos Latinos Gala Master of Ceremonies.
My favorite on campus event is Salsa Samba Night! Son del Carribe came to the student union to perform. I kid you not, I have never seen so many people united by music all night long! I loved it! 
Miscellaneous Questions
What do you order at the on-campus Starbucks or Tim Horton's?
At Starbucks, Grande Chai Tea Latte 
How many hours a day do you spend on Social Media (i.e. Twitter/Instagram/Snapchat/Pinterest)? (come on, be honest!)
I lost count
Pick your addiction:
Xbox One
PS4
Netflix
Online gaming
None of the above
What was your most embarrassing high school moment...that you can share?
Being recognized a hall away by the way I laugh. 
What is your workout routine?
I like to lift...I lift a lot of food
Where did you hang out last night/weekend?
Salt Lake City, Utah!
What is the last concert you went to?
Grix   
What's on your playlist right now?
Banda MS
Dream job…where would it be and what would you be doing?
The Ambassador to Mexico.  I'd be enjoying Mexico with my whole family,