Hometown
Dixon, Illinois
Major
Nursing
Clubs and Organizations
Kappa Delta Sorority, PHUN Club, 4 Paws
Preparing for the Future
My career goal is to be Addison Huizenga, RN, BSN. I want to work in a Level 1 Trauma Center. Wright State is preparing me for this by constantly pushing me a little further each day. I always feel like I have support from friends and faculty members telling me I can do it. That is a really good feeling.
Outside of the Classroom
My life has changed dramatically since starting my studies at Wright State. I feel like a completely changed person. I would say in high school I was slightly a introvert, but that is something I did not want in college. I decided to join organization after organization, and get involved. This definitely opened me, and showed a person I had never quite seen before. Some people are just not fit for high school, which was me, but college is for me I can say.
A Little Advice
The best piece of advice I would give to a student who is considering Wright State is to take life with a grain of salt. Engross yourself in everything you can possibly think of and do. College is a time to start over and change ways you had before. You can be anyone you want to be and it is okay to be selfish about yourself every once in awhile.
A Few of My Favorites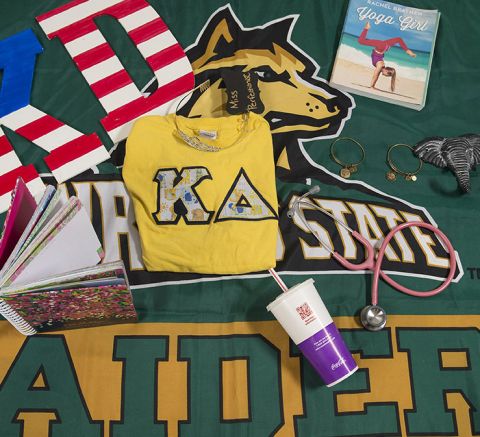 My favorite class has been Anatomy and Physiology. The reason being is we get to work with cadavers at a undergraduate level. Even though, it is one of the hardest classes I've ever taken it was so worth being pushed a little further.
My favorite spot on campus is the second floor of the library. I spend a lot of time there being a Nursing major. I always make the best out of it though. I am always there with friends and its gets pretty funny when we have been there for eight hours a day during finals week. It is really great having such a strong support group!
My favorite Wright State experience has been going through recruitment for my sorority, Kappa Delta. It was a week long process where I went through each sorority on campus and saw their qualities. Joining a sorority has shown me to be a confident woman full of brightness. It not only has kept me busy it also has allowed me to have responsibilities within the sorority. To be a sorority woman makes me proud and feel accomplished.
Miscellaneous Questions
What do you order at the on-campus Starbucks or Tim Horton's?
At Starbucks I order a Carmel Ice Coffee with milk. 
At Tim Horton's I order Timbits, always.
How many hours a day do you spend on Social Media (i.e. Twitter/Instagram/Snapchat/Pinterest)? (come on, be honest!)
I spend a lot of time on Social Media I can honestly say. I try to make it not interfere with my life though. Social Media has a way connecting you to others, and that is exactly what I use it for.
Pick your addiction:
Xbox One
PS4
Netflix
Online gaming
None of the above
What was your most embarrassing high school moment...that you can share?
My most embarrassing high school moment is when I got caught riding the elevator and riding a wheelchair down a ramp in the same day. One period of the day I worked in the nurses office delivering notes, so of course we goofed off a little bit. The most shocking part of it was that I was with another girl, and only I got caught.
What is your workout routine?
My workout routine is yoga. I actually do all types, including power and hot yoga.
Where did you hang out last night/weekend?
This past weekend I was in my home town hanging out with friends.
What is the last concert you went to?
I went to Country Thunder in Twin Lakes, Wisconsin.      
What's on your playlist right now?
I am horrible at making playlists, I kind of just go with the flow of life and hope it ends me somewhere great!
Dream job…where would it be and what would you be doing?
My dream job is to work in a Level 1 Trauma center at one of the top hospitals in the country and to maybe even travel abroad and work for a few years.
If you are going to drop $20 at the movies, what are you going to see?
If I am going to drop $20 at the movies I am going to see a comedy. The last movie I saw was Trainwreck, it made me laugh hysterically and I loved it!
What team are you on?
Team Iphone
Team Windows
Team Droid
None of the Above
What is your favorite place to go off-campus? What is your favorite spot around the Dayton Area?
My favorite place off campus to go is most likely Panera. I love food so basically any food place will satisfy me.