Cincinnati State Technical and Community College Wright Path Program
On this page:
Why Choose the Wright Path Program?
To increase access and affordability for a college education, Wright State University and Cincinnati State Technical and Community College offer the Wright Path partnership program.
Benefits
The advantages to you include:
You may qualify for Wright State transfer scholarships of up to $3,500 per year.
Take only courses in your academic pathway that apply directly to your bachelor's degree program.
It's an easy transfer process with a designated advisor on both campuses.
Take advantage of on-campus support services, resources, student organizations, and activities at Wright State even before you are admitted.
No additional cost—just sign up below
Articulation (Transfer) Agreements
Articulation (transfer) agreements are available in several areas of study, or Wright State advisors can help you create an individualized pathway.
---
Enroll in the Wright Path Program
Apply to Cincinnati State and register for classes. To enter the Wright Path program, fill out the participant application and we will verify with Cincinnati State that you are an active student in good standing.
Students must maintain at least a 2.25 cumulative GPA at Cincinnati State to remain in the Wright Path program.
---
While Attending Cincinnati State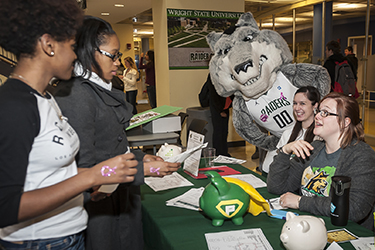 Meet with your Cincinnati State academic advisor to create an academic plan that will help you plot your courses. Following an articulation agreement or equivalency guide for your major will maximize your transfer credits. Ask your Cincinnati State advisor or go to Community College Transfer Agreements for the most recent agreements. You can also use transferology.com to run a Wright State degree audit, see course equivalencies, and track your progress.
Wright State advisors are also available to help you plan your transition from the associate to the bachelor degree. Call (937) 775-4830 or email transfer@wright.edu to schedule an advising appointment.
Tour Wright State's campus, meet with an advisor, and get the answers you need. Schedule a campus tour with the Transfer Center.
Get Involved at Wright State
You should consider getting involved at Wright State to get a feel for campus life and the many extracurricular opportunities designed to enrich students' educational experiences.
Attend a student organization meeting. There are over 190 student organizations to choose from.
Attend an athletics event. Many do not require a ticket, while some will require you to purchase a ticket. Visit wsuraiders.com to learn more about student tickets.
Attend other events, such as presidential speakers. Visit wright.edu/calendar for a list of upcoming events and information on associated fees.
Student Conduct
All students are expected to follow and abide by the Student Code of Conduct while on campus at both Wright State and Cincinnati State. In the enforcement of the code, all students minimally will have the right to receive notice of the alleged violation(s) and the time, date, and location of the opportunity to respond to the alleged violation(s). Please review the Student Code of Conduct.
---
Transferring to Wright State
Fall transfer students who intend to apply for competitive scholarships must apply one year out and complete the ONE Scholarship application by the January deadline. All other transfer students should apply six months prior to transfer. Complete the application online. Enter the fee waiver code CSTCCPartner to qualify for the application fee waiver.
Be sure to send your Cincinnati State transcripts to Wright State's Office of Undergraduate Admissions. Unofficial transcripts can be provided to get started, but official, final transcripts must be sent as soon as possible. Students petitioning for admission must submit official transcripts for an admission decision.
Meet with a Wright State advisor, register for classes, and complete the online orientation.
Apply for Financial Aid and Scholarships
Wright State offers several transfer scholarships. Some transfer scholarships will be awarded to you automatically if you qualify. Other scholarships require an application.
To qualify for federal and state financial aid, students must fill out the FAFSA (Free Application for Federal Student Aid) which can be done online at fafsa.ed.gov. Wright State's School Code: 003078
Additional Information
Students returning to Wright State may qualify to reset their former GPA at Wright State through the Second Start policy. Consult a Wright State advisor for more information.
Have questions? Contact the Transfer and Nontraditional Student Center at (937) 775-4830 or transfer@wright.edu.
---
Contact Information
Wright State University
(937) 775-4830 | transfer@wright.edu