Undergraduate Conditional Admission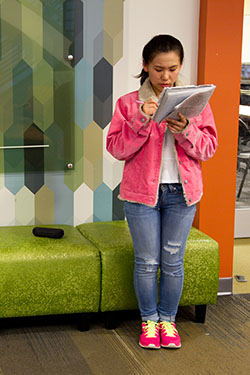 If you have met all admission requirements except English proficiency, you can apply for conditional admission. Conditional admission means that your academic records have been reviewed and you can start your academic program once the English proficiency requirement is met.
Eligibility
To be eligible for conditional admission, an applicant must:
Meet all requirements for admission into a department or program except for English proficiency.
Apply to Wright State University's Learning English for Academic Purposes (LEAP) intensive English program.
How to apply for conditional admission
Go to your Admissions Portal and select Add An Application.
While completing your undergraduate application, select the option that says I Will Start In The LEAP Program. A LEAP application will automatically be created.
Complete your application.
Pay the fee and submit your application.
Upload all documents listed on your checklist on your applicant portal. You must upload documents separately to the admissions application and the L.E.A.P. application.
Check your Admissions Portal for updates. Our admissions team will communicate with you through the portal.
The integrity of everyone's identity is a priority at Wright State University. For that reason, we do NOT accept transcripts, test scores, banking information, or passport copies via email. All applicants are to upload required documents to their applicant portal.