Graduate Conditional Admission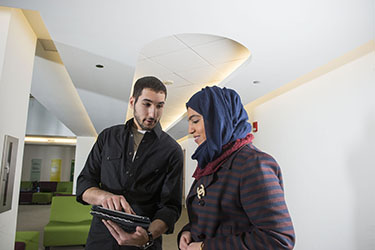 If you meet all the requirements except the English proficiency requirement, you may be granted conditional admission is possible for certain programs. Conditional admission means that your admissions into the program is conditional until you meet the English proficiency requirement and any other standardized tests required.
Eligibility
To be eligible for conditional admission, you must:
Meet all requirements for the program other than the English proficiency.
Enroll in our Learning English for Academic Purposes (LEAP) intensive English program.
Submit GRE or GMAT scores as required.
Conditional admission is available for these programs:
Applied Mathematics
Applied Statistics
Biological Sciences
Biomedical Engineering
Computer Engineering
Computer Science
Earth and Environmental Sciences
Electrical Engineering
English
Engineering Innovation and Entrepreneurship
Engineering, Ph.D.
Industrial and Human Factors Engineering
Marketing Analytics and Insights
Material Science Engineering
Mathematics with concentrations in applied mathematics and pure mathematics
Master of Business Administration (M.B.A.)
Mechanical Engineering
Microbiology and Immunology
Music
Pharmacology and Toxicology
Public Health
Physics
Social Work
How to Apply for Graduate Conditional Admission
Go to your Admissions Portal and select Add An Application or log in to your existing admission application.
While completing your undergraduate application, select the option that says I Will Start In The LEAP Program. A LEAP application will automatically be created.
Complete your application.
Pay the fee and submit your application.
Upload all documents listed on your checklist on your applicant portal. You must upload documents separately to the admissions application and the L.E.A.P. application.
Check your Admissions Portal for updates. Our admissions team will communicate with you through the portal.