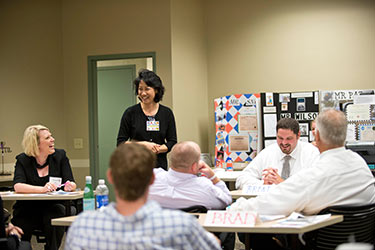 Template File
The assessment processes at Wright State are driven by our mission and vision and are designed to assure students are learning and the learning is geared to the needs of professions. Assessment is designed to answer the question "What are our students learning and how can we improve our courses, curricula, and programs?"
The Assurance of Learning Committee
The University's Assurance of Learning Committee provides university-wide leadership and coordination for academic and co-curricular program review and the assessment of student learning outcomes.
Membership includes at least one faculty member and one administrator (Assistant Dean or above) from each college with undergraduate programs and includes representatives from Student Affairs, the University Library, and the Graduate School.
There are currently five levels of assessment at Wright State:
Institutional program review done every 5 years for all programs
Student Learning Outcome assessment by program
Assessment of core learning outcomes through the HLC Assessment Academy
Various reviews of programs by professional accrediting bodies
Student Learning Outcome Assessment 
While the institutional assessment measures provide an overall picture of student characteristics and success in the university, individual assessment plans for each academic major guide outcomes assessment activity in all academic and co-curricular programs. Each plan begins with objectives and goals for the academic program. The assessment process identifies data to demonstrate how students are successfully achieving the intended outcomes and goals. The team then commits to initiatives leading to improvements. Finally, the team documents the success of the initiatives.
In 2012, the Higher Learning Commission (HLC), our regional accreditor, required every institution to select a Quality Initiative project.  The Quality Initiative project is a 4-year commitment to improve in a specific area found in the Assurance Argument for re-accreditation. Wright State selected the HLC's Assessment Academy.   From 2012-2015, we implemented a multi-year university-wide process to assess student mastery of the seven learning outcomes of the Wright State Core, our general education program, and developed a sustainable process for continuous improvement in student learning. As part of the Academy, we were required to submit a comprehensive plan of assessment of student learning and report our progress on every term.  Our progress reports were reviewed by two assessment expert mentors who commented and provided support and suggestions.  In October of 2015, we attended the final Academy session to present our findings, including data, changes, and our commitment to continue the plan.  We received positive comments on our commitment and leadership.
Wright State has continued to implement the annual Core Assessment procedures that were first developed during the HLC Assessment Academy. Wright State has also implemented a revised annual assessment template.
HLC Report
2015 Core Report
2016 Core Report
2019 Core Report
2020 Core Report
Individual Program Accreditation
Individual program accreditation is completed by the college under the direction of the dean. Program accreditation is most commonly sought by colleges to assure the students can achieve the credentials needed.  A list of the program accreditations at Wright State can be found under Program Accreditation