On this page:
Overview
Since assuming the presidency Dr. Edwards has challenged us to think about the future of Wright State University. Defining who we are, what we are and what we offer will shape our path forward as a university. As communicated previously, our underlying financial situation has been exacerbated by COVID-19. The original timeline envisioned for moving through this process has been shortened.  As a result, Wright State University must take decisive action now to sustain campus operations and continue to fulfill our commitment to serving our students, our region, and the state of Ohio.
In the spirit of innovation and collaboration, Wright State has embraced the opportunity to reorganize and consolidate many of our academic units and programs, concentrating the university's strengths to meeting the evolving needs of our region. This multidisciplinary effort will reinvigorate our university, provide stability for our community, and form a foundation for fiscal sustainability.
A preliminary plan was created with input from our college deans, and has been shared with the Faculty Senate Executive Committee and department chairs across campus. The Boonshoft School of Medicine and the Lake Campus are not part of this preliminary re-organization plan.
Please review the included schematic of the preliminary plan. The underlying goals were to strategically enhance collaborative research and teaching as we meet the region's needs. This plan consolidates six existing colleges and one school (SOPP) into four colleges, and re-organizes many existing academic departments, some becoming larger academic structures. 
These proposed changes include:
Creating the previously announced new health college
Combining most of the units in the Colleges of Science and Mathematics and Engineering and Computer Science into a new STEM college
Reorganizing the departments and programs in the College of Liberal Arts
Continuing to assess the Raj Soin College of Business departments for organizational efficiencies
Brian Rigling, dean of the College of Engineering and Computer Science, will serve as the point person for this monumental and critical effort. Rigling has been instrumental in university academic program reviews; the results of that effort provide a fact-based and strategic foundation for future-looking decisions. He will now coordinate a committee process to review and incorporate your feedback, preparing a final organizational plan for my consideration.
Please take some time to review this draft plan and use the form below to submit your comments by August 4, 2020. To reiterate, final decisions have not been made and your opinion does matter – please take the time to participate in this historic process of plotting Wright State's future.
Thank you,
Interim Provost Douglas Leaman 
---
Second Draft
Dear Campus Community,
Thank you to everyone who has provided input on the preliminary proposal to reorganize many of Wright State University's academic units. Your feedback and ideas are a critical part of the reorganization process.
Today, we want to share a revised draft of the reorganization plan, which is based on feedback we have received through our online comment form and from committee members and discussions with others in the campus community.
Please review the updated reorganization proposal. The plan would consolidate seven colleges or schools into four colleges and reorganize many existing academic departments. We are also considering options to reorganize the Raj Soin College of Business and Lake Campus.
Much work remains before a recommendation is submitted to interim Provost Leaman. We encourage all members of the Wright State community to provide feedback.
You can submit your comments and suggestions using our online form by August 4. There is no limit to the number of comments you may submit. If you have already submitted feedback and have additional ideas, please share them.
The Academic Reorganization Committee has been formed to oversee the process, including assisting in incorporating community feedback into the reorganization recommendation. The committee is made up of student, Faculty Senate, and Staff Senate representatives. Committee members are as follows.
Student representatives: 

Ivan Mallett
Jonathan Ciero
Drew Gillum
Isabelle Hardesty

Faculty Senate representatives:

Laura Luehrmann
Brian Boyd
Huma Bashir (CEHS)
Susan Carrafiello (COLA)
Jeff Cigrang (SOPP)
Kevin Duffy (RSCOB)
Fred Garber (CECS)
Megan Faragher (LAKE)
Marietta Orlowski (BSOM)
Misty Richmond (CONH)
Dawn Wooley (COSM)

Staff Senate representatives:

Jen Attenweiler
Connie Bajek
Katie Halberg
Stefanie Kohne
Jen Walsh
Cindy Vanzant
Working groups have been formed to closely examine a variety of topics over the next couple of weeks. They may recruit other members of the campus community to participate in this effort. The working groups are listed below.
Lake Campus
Raj Soin College of Business
College of Liberal Arts
General Education
Timeline
Accreditation
Research
Size and Structure
Thank you,
Brian D. Rigling, Ph.D.
Professor & Dean, College of Engineering & Computer Science
Academic Reorganization Committee, Chair
Academic Reorganization Committee Report (PDF)
---
Current Institutional Structure
---
Reorganization Drafts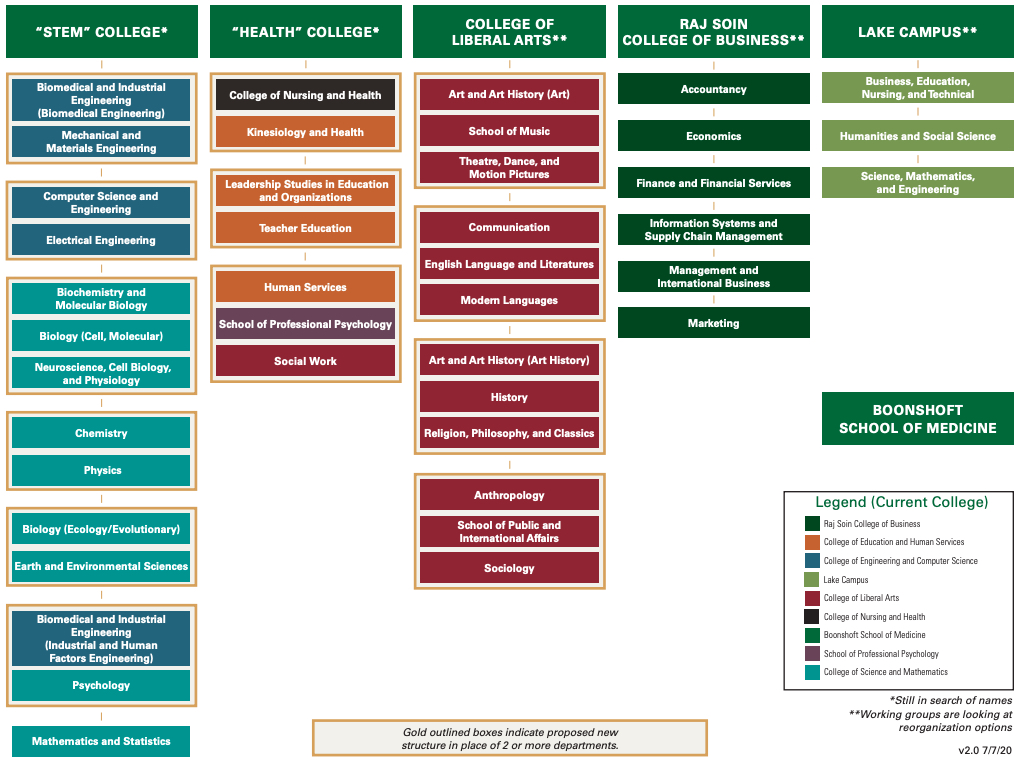 ---
Comments