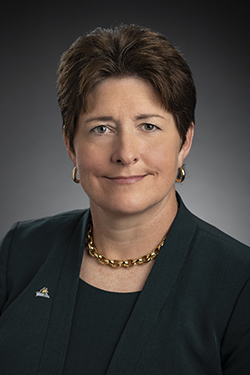 Dear Colleagues,
It's week five, and I think I can say for all of us how good it feels every day to look out the window and see the Quad and walkways full of students and faculty on their way to and from classes and meetings. So many of those students are children of Wright State faculty, staff, administrators, and alumni. Today, I want to give a special shout-out to all those employees and alums who have entrusted Wright State with educating their children. We realize you had a choice, and that you chose Wright State University. That is an endorsement to be proud of!
Important Reminders and Information
Progress Reports continue
Progress Reports will continue in weeks five and eight of the semester. You will receive emails reminding you of the opportunity to give a progress report and issue alerts for your students who are experiencing attendance, performance (grades), technology barriers, and/or other concerns in your courses. For questions, please contact Associate Vice Provost for Student Success Tim Littell.
Banned Books Week: September 18 to 24, 2022
The American Library Association's Office for Intellectual Freedom (OIF) has identified historically unprecedented levels of challenges to books and attempted book bans. The OIF has noted an increased focus on demands to remove books that address racism and racial justice, along with the stories of Black, Indigenous, and people of color. These challenges and bans particularly affect students, who lose access to critical information. Learn more about Banned Books Week at Dunbar Library, where you can check out a banned book available in the book displays on the second and third floors and get a free "I read banned books" button to display your support for the freedom to read.
Promotion and Tenure
September 30: Deadline for NTE faculty and their chairs to choose peer evaluators (N13.5.2.3.3)
September 30: Deadline for eligible NTE faculty to submit PDCR proposals to department chair (Article N29)
Announcements
Office of Research and Sponsored Programs
GrantForward helps you search for grant opportunities that suit your research needs with a database of grants from over 18,000 sponsors, updated daily. You can access GrantForward at grantforward.com. To access full search features, including saved searches and personalized grant recommendations, please sign up for a user account using your Wright State email address. I also encourage you to create a "Researcher Profile" (see quick demo) to start receiving grant recommendations.
If you have any questions about using GrantForward, reach out to rsp@wright.edu, and the Office of Research and Sponsored Programs will connect you to the pre-award administrator for your college/department. This staff member can also help when preparing proposals.
The College of Health Education and Human Services reports that the undergraduate nursing degree program was ranked 293 out of 681 programs by U.S. News and World Report. The School of Nursing, Kinesiology, and Health Sciences offers three-year and four-year B.S.N. degrees, with National Council Licensure Examination pass rates that exceed both Ohio and national averages. For more information about Wright State's nursing program, reach out to CHEH Dean James Denniston. 
Have a great week!
Best,
Amy Thompson, Ph.D.
Provost and Senior Vice President for Academic Affairs