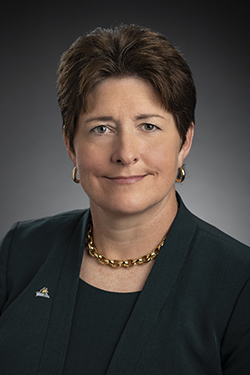 Dear Colleagues,
As we near the end of the fall semester I encourage you to continue to check on students who may be struggling in your courses. Resources for students are available and your dedication to all students is greatly appreciated.
On Friday, November 11, spring registration will be open to all students. We encourage students to register for their spring courses as soon as possible. For those students graduating in the fall semester, the First Destination Survey, which collects students' post-graduation plans, will be available. Information shared in the survey becomes part of a composite portrait of Wright State. The responses help us assess our impact on student success, recruit prospective students, and fulfill requests from organizations that accredit or rank our programs. Please encourage your soon-to-be graduates to complete this survey. The survey remains open in Handshake for six months after the student graduates.
Lastly, we are still seeking your input on the proposed reorganization of the Graduate School and the University Honors Program. Please provide your feedback via this Qualtrics survey, which should take approximately 10 minutes to complete and is open through December 7.
Higher Learning Commission (HLC) Update
As mentioned in last week's newsletter, HLC accreditation is centered on evidence that supports five specific criteria. Our HLC visit in March will focus on criteria 4B and 5C. The components of 4B are 4B1, 4B2, and 4B3 and are defined as:
4B1: The institution has effective processes for assessment of student learning and for achievement of learning goals in academic and cocurricular offerings.

Evidence includes annual assessment plans, Core Oversight Committee charge, Assurance of Learning Committee charge, program accreditation assessment plans, and program review cycle.

4B2: The institution uses the information gained from assessment to improve student learning.

Evidence includes annual assessment reports, including a summary of how the assessment leads to improving student learning.

4B3: The institution's processes and methodologies to assess student learning reflect good practice, including the substantial participation of faculty, instructional, and other relevant staff members.

Evidence includes the list of assessment committee members, minutes of assessment committee meetings, and PowerPoint slides of trainings for units to do assessment.
If you have examples of evidence for any of criteria 4B, please contact Bruce Mackh, vice provost for assessment and chief accreditation officer.
Human Resources
2023 Benefits Open Enrollment closes November 14. Benefits Open Enrollment is a once-a-year opportunity for benefit-eligible employees to reflect on their current benefit elections and make necessary changes for the upcoming year. All benefit-eligible employees are required to take action to waive, terminate, continue, or enroll in coverage for 2023. Elections made during open enrollment take effect on January 1, 2023. To find details, visit wright.edu/openenrollment.
Events
On November 14 at 9:00 a.m., Dayton Literary Peace Prize winner Alexander Starritt will be interviewed by a panel of faculty about his novel We Germans, which narrates the experiences of a German soldier on the Eastern Front in World War II in the form of a letter to his grandson written many decades after the end of the war. Professor Sean Pollock (history), Professor Donovan Miyasaki (philosophy), and CoLA Dean Gary Schmidt (German studies) will interview the author in front of a live audience, followed by a question-and-answer period.

The event will take place in the 280 Creative Arts Center and is free and open to the public.
 
Andrea Elliott, a journalist and two-time winner of the Pulitzer Prize, will give a lecture on her book Invisible Child: Poverty, Survival, and Hope in an American City on November 14 from 9:15 to 10:15 a.m. on the fourth floor of Dunbar Library. The discussion is supported by the Division of Inclusive Excellence, the College of Health, Education, and Human Services, and the University Libraries. It is free and open to the public.

Attendees are encouraged to bring new socks to donate to a sock drive organized by the Student Advisory Board of the College of Health, Education, and Human Services in partnership with Shoes4theShoeless.
 
The School of Fine and Performing Arts is currently presenting the feel-good musical comedy Sister Act. Shows run through November 20 and more information can be found on the Wright State website.
Commencement
Commencement marks a significant moment in the lives of our students and their families. The granting of a degree and the admission to the "rights and privileges" associated with a given degree are extraordinarily important events for those receiving degrees.
The presence of faculty is especially important for the graduates and their families. All faculty should prioritize their attendance and bargaining unit faculty are reminded of their responsibility under Article 7.4.8.
All faculty are encouraged to attend one or both ceremonies in December. Registration is required and is open now through November 21. You can register online.
Graduate Ceremony: Friday, December 9, 7:00 p.m.
Undergraduate Ceremony: Saturday, December 10, 10:00 a.m.
Noteworthy News
Wright State participated in the International Genetically Engineered Machine (iGEM), a global synthetic biology competition for young STEM researchers. Student-led teams design and engineer new synthetic biology methodologies or biological devices, carry out their independent projects throughout the summer, and present their work at a global Giant Jamboree competition in the fall. The projects include a team Wiki, promotional videos, and community outreach activities to promote STEM learning in the local community. The Wright State iGEM team was founded in 2021 through an NDEP-funded program called BiOBESTD (Biotechnology Outreach Bolstered through Education in STEM and Development) awarded to Dr. Madhavi Kadakia, vice provost for research and innovation. Wright State's 2022 interdisciplinary team consisted of undergraduates across multiple departments and is mentored by both Wright State and AFRL faculty.
Wright State's iGEM team project involves the development of a biological sensor to detect manganese from water and soil samples. Their rationale was that manganese levels above World Health Organization limits occur in developing countries and are associated with neurologic dysfunction and Parkinson's-like disease. Despite the increase in manganese discharges from industrial runoffs and the resulting increase in manganese contamination of drinking water and soil, synthetic biology applications for the sensing or bioremediation of manganese have not been described in any detail. The team worked on a sensor to detect manganese contamination in water and soil samples using synthetic biology approaches to both sense and sequester manganese with the goal of utilizing this system in a water filter or cell-free system to chelate manganese from drinking water as a cost-effective and fieldable alternative to existing strategies.
Dr. Kadakia attended the iGEM Jamboree global competition in Paris, France, along with Dr. Michael Craig and students Jaidan Peters and Madeline Gruenberg. This year, over 350 multidisciplinary teams from over 40 countries presented their projects on how to solve local problems, all over the world, using synthetic biology. The Wright State students won a silver medal at the competition.
Recognition
Dr. Subhashini Ganapathy, professor and chair of the Department of Biomedical, Industrial, and Human Factors Engineering, was honored as a diversity champion by the Dayton Business Journal. The Outstanding Diversity Champion Award honors individuals who have shown outstanding initiative to promote diversity and inclusion either in their organizations or communities, making a positive difference in others' lives through contributions to social justice, equality, and diversity.
When a Student Needs Support
Wright.edu/help is a great resource for helping students or making referrals. This site contains contact information for emergency or essential departments that can assist your students all in one location.
Resources Available on Campus
The Chronicle of Higher Education and Pearson will host a virtual forum titled "How to Design Learning for Student Success" on November 16 at 2:00 p.m. The format is a panel of higher education leaders who will discuss formal and informal practices for engaging students in the creation and implementation of high-impact pedagogy. Additional information and registration to this free resource are available on their website.
Have a wonderful week!
Best,
Amy Thompson, Ph.D.
Provost and Senior Vice President for Academic Affairs