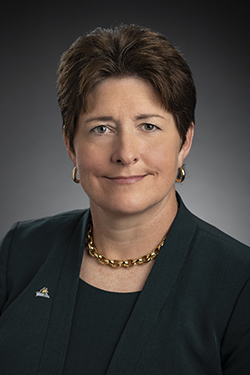 Dear Colleagues,
This week marks the end of my sixth month at Wright State University. As I look back on the past half year, I am appreciative to have met and worked with so many of you. I am so proud of what we have already been able to do together. As I look forward to the next six months—and to the coming years—I am excited to continue working and focusing on our three Rs: Recruitment, Relationships, and Retention. I appreciate your commitment to these priorities and look forward to accomplishing more together with continued forward momentum!
Recognitions
Rachel Sturm, chair and associate professor of management and international business in the Raj Soin College of Business, was recognized by the Better Business Bureau's Women in Business Networking (WiBN) program as a 2023 Women of Impact honoree.

Women of Impact honorees are dynamic professional women who have been recognized for inspiring and encouraging those around them to actively challenge the status quo, working to improve their communities, developing their employees, and advocating for women in general. Rather than being content with others just watching them work, these women involve those around them in their endeavors, thereby increasing their collective impact. They understand we are "BETTER TOGETHER." Congratulations, Dr. Sturm!
 
Michelle Vaughan, associate professor in the School of Professional Psychology, was awarded American Psychological Association Fellow status for Division 44 (Society for the Psychology of Sexual Orientation and Gender Diversity).

American Psychological Association Fellows are members of the association who are interested in the advancement of psychology as a science and as a profession and who have shown evidence of unusual and outstanding contributions or performance in the field of psychology. Fellow status requires that a person's work has had a national impact on the field of psychology beyond a local, state, or regional level. Congratulations, Dr. Vaughan!
Faculty Campus Climate Survey
The Division of Inclusive Excellence is asking all faculty to complete the National Assessment of Collegiate Campus Climates (NACCC) Faculty Survey, which will help us gauge our diversity, equity, and inclusion efforts. Faculty should have received an email from helpdesk@nacccsurvey.org with a link to the survey. The survey will remain open through December 15. Your responses will be confidential and will only be shared with the NACCC survey team.
Your experiences and perceptions of equity in the workplace are invaluable and can help us create an environment where everyone feels safe, welcomed, and included. Please take a few minutes to complete this important survey.
Students and staff will receive separate surveys during spring semester.
Commencement
Commencement marks a significant moment in the lives of our students and their families. The granting of a degree and the admission to the "rights and privileges" associated with a given degree are extraordinarily important events for those receiving degrees.
The presence of faculty is especially important for the graduates and their families. All faculty should prioritize their attendance and bargaining unit faculty are reminded of their responsibility under Article 7.4.8.
All faculty are encouraged to attend one or both ceremonies next week:
Graduate Ceremony: Friday, December 9, 7:00 p.m.
Undergraduate Ceremony: Saturday, December 10, 10:00 a.m.
Research and Sponsored Programs
Research and Sponsored Programs and the Office of Technology Transfer—Ask the Expert!
These 30-minute virtual sessions are a wonderful opportunity for Wright State University researchers to discuss ideas they would like to see in the market, the numerous types of intellectual property protection, and the various paths for commercialization.
Online appointments are available on Friday, December 9, between 9:00 a.m. and 3:00 p.m. Schedule your appointment with Dr. Julie Nagel.
When a Student Needs Support
Wright.edu/help is a great resource for helping students or making referrals. This site contains contact information for emergency or essential departments that can assist your students all in one location.
Have a wonderful week!
Amy Thompson, Ph.D.
Provost and Senior Vice President for Academic Affairs