What is Software Center?
Software Center allows for self-service software installations.
Software Center allows CaTS to report usage of software to optimize licensing costs.
Windows users: Software Center is now available on university-owned computers connected to the Wright State domain.
To determine if you have Software Center, go to your 'Start' menu, select 'All Programs', and Software Center will be listed if available.
If you have Software Center, refer to the Available Software section below for information on software installation.
If you don't see Software Center on your Windows PC, please call the Help Desk for assistance with installing the software.
Software Center is your way to access self-service software installations for Windows machines on the Wright State domain. 
On this page:
---
Accessing Software Center
Open your Start Menu.
Click All Programs.
Click Microsoft Endpoint Manager.
If present, click Configuration Manager. 
Click Software Center. 
If you do not see Software Center, contact the CaTS Help Desk at 937 775-4827 for assistance. 
---
Available Software 
Below is a list of all available software through Software Center. For a complete list of all software available for University purposes, visit the University Software page.
Acrobat DC 2017
After Effects
Animate
Audition
Bridge
Camtasia
Character Animator Beta 6
Cisco AnyConnect Secure Mobility
Compustat
CRSP Enterprise
Dreamweaver
Extend Script Toolkit
Extension Manager
Fireworks CS6
FlashBuilder
Fuse
Gaming SDK
Google Chrome Standalone
Illustrator CC
InCopy
InDesign
Lightroom
Mathematica
MatLab
Media Encoder
Microsoft Office 2016
Muse
Photoshop
Prelude
Premiere Pro
Project Felix
Read & Write Gold
Reader DC
Scout
SnapNRead
SpeedGrade
SPSS 24
Stata
Adobe Creative Cloud Installation Instructions
Important Notes: 
Users installing this on their University owned machines will only need to login once to access Adobe CC applications
Users accessing Adobe CC in any computer lab on Campus will need to follow the login instructions below, everytime they are using one of the applications listed above
After installing an Adobe CC app, click on the Adobe Creative Cloud icon saved to your Desktop
Click on Sign in with an Enterprise ID

Enter @wright.edu as your Email address, then hit Enter on your computer keyboard
You will be then prompted to enter your Campus username and password 
Once the installation is complete, you will be able to access the Adobe CC apps you've installed
---
Quick Tour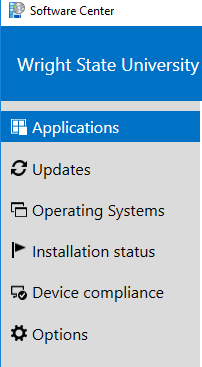 Applications: Software currently available to you for download.
Updates: System and software updates for your specific University-owned machine. 
Installation Status: View the installation progress of software being installed on your machine. 
Options: Specify the Software Center configuration settings for your computer.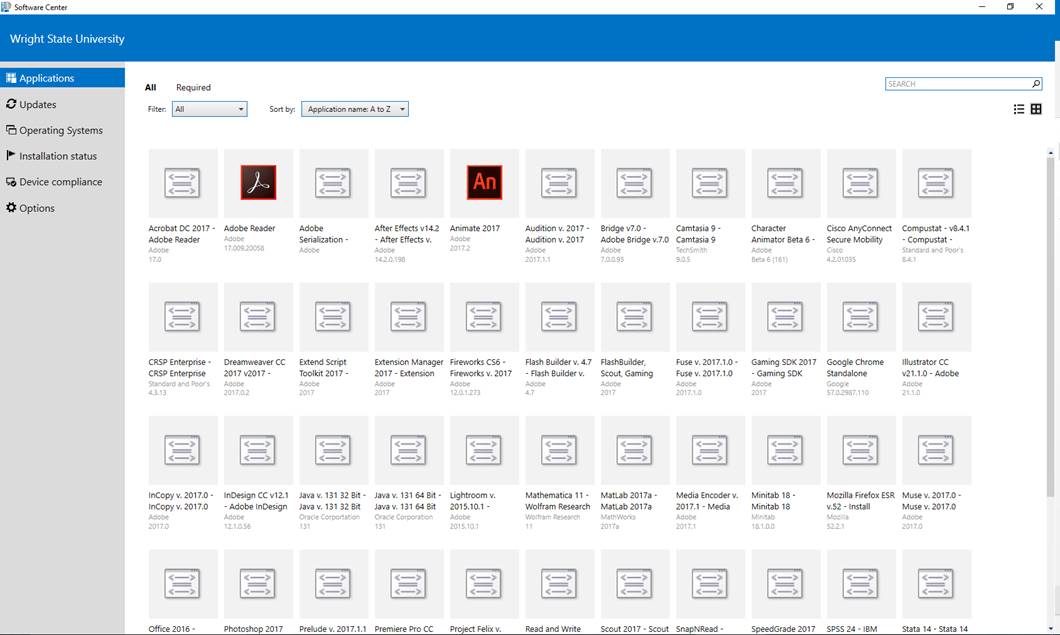 ---
Downloading Software
Select the software you wish to download from the list.
Click Install.
Follow the prompts to complete the download and installation. 
Software Center will keep you informed throughout the installation process:
Installing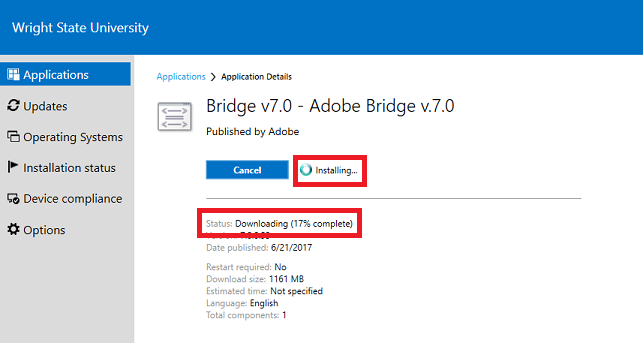 Installed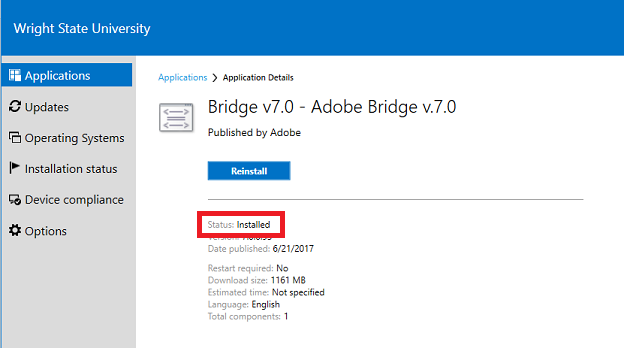 Once your software is installed, be sure to follow any additional instructions on the dialog boxes. You may also be prompted to restart your computer. 
---
Uninstalling Software
Open your Start Menu and select Programs.
Click Control Panel. 
Click Programs and Features.
Select the software you wish to uninstall.
Click Uninstall and follow the prompts.